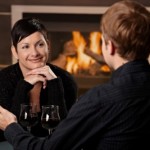 When single mothers set out to date, things are not always easy. Most women still carry the baggage of their marriage with them and then the entire angle of kids can make the situation all the more complicated for a man. As a mom you do not want to expose the kids to any danger and also do not want to make them emotionally unstable. On the other hand, you have your own life to lead and it is important that you get on with it. Over and above all this, there is no denying the fact that the choice of men to date can get limited for single moms.
Despite all these hurdles single moms will have to learn to pick up their life and move ahead in the dating world. Some tips below will help to fare better in the dating world while balancing home and kids too:
Break free from guilt – You have every right to live your life and live it on your terms. Do not badger yourself and feel guilty for going out on the date. While it is important that you take care of your kid's needs, it is also important that you lead a personal life too. As a mother you will not be able to provide your child with a happy environment unless you are happy yourself and to stay happy it is important that you lead a normal life that allows you some personal time as well. You are doing no wrong by stepping out for a date as long as the kids are well cared for by you.
Never hide facts – As a single mom you may feel that letting your date know about your kid can scare him or dampen the date. However, hiding facts will only make life more difficult. Right from day one you date must know that you have kids. Concealing this information will not only make your date feel cheated but also send a signal to your kids that you are ashamed of them. Don't hide facts about yourself and go into the dating arena with the confidence that you are liked for who you are.
Learn to balance – As a single mother you will need to balance a lot of activities. The same holds true for your dating life and your kids. The children should be comfortable with you stepping out, no doubt, but you must also know that when on a date the kids should not play on your mind all the time. So have fun when on the date and apart from ensuring that the kids are safe at home do not go over board worrying about them.
While things may not have worked out in your relationship before, this should not make you into a bitter person. Go out and start your life over again. Going back into a dating scene will not only help you to find someone who may wish to settle down with but will also help to provide you with the much needed social interaction that may have gone missing after your divorce.