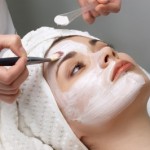 Winters don't seem to do much for the skin. In fact come winter and even those with nice supple skin are bound to face some dryness. The cold weather tends to rob the skin of moisture and make it dry. If not taken care of, this dryness will lead to wrinkles and fine lines that ruin the texture of your skin.
Some tips below on how to care for your skin during winters will help you to battle the cold weather and retain your glow:
Moisturizers – There is no doing away with the moisturizer during winter months. While you may choose a commercial moisturizer or adopt a natural one made at home, the need for a moisturizer cannot be over looked during the winter. Use the moisturizer not only on your face but also on your feet and elbows. You will be surprised at how soon the skin on your elbows will dry up. When choosing a moisturizer make sure that it is compatible with your skin type and it may serve well to buy one for your body and the other specially developed for facial skin.
Sun screen - Do not forget to apply sun screen during winters. Most of us falsely believe that sun screen is only for the summers. The sun is harsh during the winter months too and does more damage to our skin than most of us realize. So apply sun screen on your face, neck and even arms when you are stepping out in the winter months.
Water – It is a fact that in winters we tend to feel less thirsty and will therefore often ignore to drink adequate quantity of water. It is important that to keep the skin well moisturized right through the winter, you drink at least 8 glasses of water a day. This makes sure that your body stays well hydrated and your skin is nourished well from within too.
Avoid very hot water – As the weather gets colder, we tend to heat our bath even more. While the warmer water may feel great, it damages the skin extensively. In order to keep the skin supple, avoid hot water baths. Never wash the face with hot water and after you have finished taking you bath dab the face with cold water.
Avoid soap – Another important tip to keep in mind during winter months is to not use too much soap. Soap has a tendency to dry the skin, and the more you use it in winters the worse drier the skin will get. Instead opt for cream based soaps that moisturize and always use a face wash instead of soaping the face.
It will help to use fresh milk cream, Aloe-Vera and other similar natural products on the skin so as to keep it well moisturized and away from chemical exposure. Remember that winters tend to be quite harsh on the skin and it important that you pay extra attention to your skin at this time of the year.