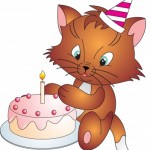 First birthday parties are a big deal for most parents, especially if the baby is the first in the family. Organizing the party and going into even the smallest of details is something parents enjoy tremendously. First birthdays are no doubt a great milestone and one that the entire family wishes to celebrate with great élan.
However, in all these celebrations, one tends to forget the real guests of honor and also her comfort level. Most kids go howling right through the first birthday and play spoilsport. While there are no guarantees, there are a few tips that you can keep in mind when planning your kid's first birthday in order to ensure that things stay on the right track.
Naps – First birthdays must be timed in a way that the baby has had her nap. So if the kid sleeps during the afternoon, start the celebrations early in the evening. Remember a baby that is kept awake at a time when she usually sleeps will be cranky and highly irritable too. So pay special attention to the fact that the child must be rested well once the party does start.
Keep it simple – While the temptation to bring in everything right from the clown to the musical show to even the tattoo maker is great, do not fall for that. If you want the baby to have fun, keep it simple and short. A nice clean cake with not many balloons for decorations, more of streamers and absolutely no loud noises should be the mantra for first birthdays.
Do not overcrowd – One tends to go overboard with the invitations when celebrating baby's first birthday. While you would like to celebrate in a large way, remember that kids do not like large crowds and will be most perturbed by all these unfamiliar faces. So, try and keep the gathering small and stick with people that the child is used to seeing often.
Familiar venue – When celebrating your kids first birthday, it is advisable to stick with a familiar venue as opposed to renting a place that the child has not been to before. Home grounds work the best in these cases since the child feels comfortable and secure and therefore is less likely to throw a fit. Renting a room at a restaurant may not work too well since the new faces and the new environment is very likely combine to make the baby restless and scared.
In most cases the first birthdays are more for the sake of the parents than the child. Children this age have neither awareness nor desire for their birthdays to be celebrated. Do remember this very basic fact of first birthdays and you will be able organize a party that will suit the baby too. Of course keeping a record of the party is highly recommended since the child is not likely to remember it and these pictures will help to make memories for the coming years.