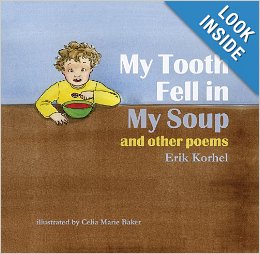 My Tooth Fell in My Soup is a charming book written by Erik Korhel. It contains 21 lovely poems and 26 full color illustrations about childhood, first loves, falling teeth, picking teams, breathing fire and much more! Many of the illustrations are taken from childhood photographs accumulated over the years.
The poems are based on Erik's childhood experiences during his formative years growing up and living in the Covington area of Washington State.
Mr. Korhel has always been drawn to writing during his high school years. He expanded his understanding of the rich variety of literature that wasn't available to him in high school by avidly pursing inspiration from libraries, bookstores and conversations with his peers.
This first book grew out of his love of literature and his desire to not lose the freshness and excitement of his childhood.
"I started by purchasing a spiral notebook and writing down my thoughts, wherever I may have been and at any time of the day or night, any ideas that came to mind."
"Much of my initial writing started with a line or phrase, a rhyme, a thought, which I crafted into something that expressed my view of this precious time of a child's life."
This book gave Korhel an opportunity to "envelop himself in pure nostalgia."
Covington in recent years has undergone rapid growth and tremendous change. Korhel remembers nothing but trees and fields as a child growing up in the 80's.
"I remember only having a Johnny's grocery store…the bank across from McDonald's was a small trailer in the middle of a gravel lot, this is where the imagination was put to work." Korhel said.
Korhel uses his writings for children to keep a strong connection with the endless possibilities of childhood.
"I was going to be Spider-Man when I grew up and there wasn't a person on the planet who was going to tell me different," Korhel said.
He may not have completed his transformation into Spider-Man, but he has inspired the dancers of a South Seattle dance studio to interpret his poems from the book into the physical form of music and dance.
"I didn't know what to expect and was not only amazed, but feel quite honored by the experience," Korhel said.
My Tooth Fell in My Soup – by Erik Korhel
About the Author
Erik Korhel began his pursuit of his dream and published his first book, a children's book of poems titled "My Tooth Fell in My Soup". It contains 21 humorous poems and 26 full color illustrations about childhood, first love, falling teeth, picking teams, breathing fire and much more!
Mr. Korhel has also been recognized for his writing by being selected by the New York City's Department of Education "Must Have" book list for sample unit of study for grades 3-5, along with many workshops, book signings and guest presentations.  Mr. Korhel also is principal of "EDK Distribution, LLC" a book distributor for all forms of published books, providing the vehicle to get authors books into bookstores.