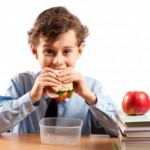 The Child Nutrition Programs provide healthy, nutritious meals and snacks to the Nation's children. Through the National School Lunch Program and School Breakfast Program, school children have access to healthy meals. Through the Special Milk Program, school children who do not have access to other meal programs can supplement their day with a serving of milk. Contact your local school officials or your Child Nutrition state agency to find out if your school participates in the USDA school meals programs.
Through the Child and Adult Care Food Program, children in child care settings have access to healthy meals and snacks. Day care centers and home day care providers can participate in the programs.
Through the Summer Food Service Program, children are provided healthy meals during those times when school is closed for the summer.
National School Lunch Program
The National School Lunch Program (NSLP) is a federally assisted meal program operating in public and nonprofit private schools and residential child care institutions. It provides nutritionally balanced, low-cost or free lunches to children each school day. The program was established under the National School Lunch Act, signed by President Harry Truman in 1946
Fresh Fruit and Vegetable Program (FFVP)
FFVP can be an important catalyst for change in our efforts to combat childhood obesity by helping children learn more healthful eating habits. The Program has been successful in introducing school children to a variety of produce that they otherwise might not have the opportunity to sample.
FFVP Toolkit: The Fresh Fruit and Vegetable Program provides all students in selected elementary schools with high free and reduced price enrollment with a wide variety of healthy fresh fruits and vegetables. This site provides Webcasts, templates, presentations, and resources from state agencies to help you build a successful Fresh Fruit and Vegetable Program in your school.
School Breakfast Program
The School Breakfast Program (SBP) provides cash assistance to States to operate nonprofit breakfast programs in schools and residential childcare institutions. The program is administered at the Federal level by FNS. State education agencies administer the SBP at the State level, and local school food authorities operate it in schools.
After School Snack
The National School Lunch Program offers cash reimbursement to help schools serve snacks to children in afterschool activities aimed at promoting the health and well being of children and youth in our communities. A school must provide children with regularly scheduled activities in an organized, structured and supervised environment; include educational or enrichment activities (e.g., mentoring or tutoring programs). Competitive interscholastic sports teams are not an eligible afterschool program. The programs must meet State/local licensing requirements, if available, or State/local health and safety standards. All programs that meet the eligibility requirements can participate in the National School Lunch Program and receive USDA reimbursement for afterschool snacks.
Afterschool snacks help ensure that children receive the nutrition they need to learn, play and grow. Organized, structured, and supervised programs that provide snacks allow children to think and behave better, and help them make the grade!
Seamless Summer Option
Kids still need good food, even when school is out. Now it's easy to accommodate them! You can apply to operate the Seamless Summer Option through the National School Lunch (NSLP) or School Breakfast Programs (SBP). Continue the same meal service rules and claiming procedures used during the regular school year. Although the traditional Summer Food Service Program is still available to schools, the Seamless Summer Option offers a streamlined approach to feeding hungry children in the community.
Special Milk
The Special Milk Program provides milk to children in schools and childcare institutions who do not participate in other Federal meal service programs. The program reimburses schools for the milk they serve.
Schools in the National School Lunch or School Breakfast Programs may also participate in the Special Milk Program to provide milk to children in half-day pre-kindergarten and kindergarten programs where children do not have access to the school meal programs.
Child and Adult Care Food Program (CACFP)
CACFP plays a vital role in improving the quality of day care for children and elderly adults by making care more affordable for many low-income families.
Through CACFP, more than 3.2 million children and 112,000 adults receive nutritious meals and snacks each day as part of the day care they receive.
See how CACFP can make a difference in the quality of your program! Whether you are a provider in your home, at a day care center, in an afterschool care program, or in an emergency shelter, you will find many useful resources for serving nutritious meals and snacks.
Eligibility for the Programs
See the Department's annual adjustments to the Income Eligibility Guidelines, to be used in determining eligibility for free and reduced price meals or free milk.
These guidelines are used by schools, institutions, and facilities participating in the National School Lunch Program (and Commodity School Program), School Breakfast Program, Special Milk Program for Children, Child and Adult Care Food Program and Summer Food Service Program. The annual adjustments are required by section 9 of the National School Lunch Act.
Applying for the Programs
Schools send school meal applications home at the beginning of each school year. However, you may apply for school meals at any time throughout the school year by submitting a household application directly to your school. Your school will provide you with an application upon request.
Applying for Free and Reduced Price School Meals
If you are earning at or below current Income Eligibility Guidelines, we encourage you to contact your school to fill out a school meal application. The school or local education agency will process your application and issue an eligibility determination.
If you are receiving Supplemental Nutrition Assistance Program (SNAP) benefits, your child automatically qualifies for free school meals. Please contact your school to determine if you need to fill out an application.
If you are eligible for unemployment compensation, you might also be eligible for free or reduced price school meals.