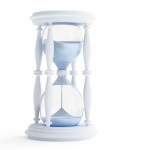 Waiting is my least favorite concept in life.  Sometimes waiting feels like torture; because while I'm waiting I have to trust that waiting is what I am supposed to be doing.  It just feels like a waste of time – why do I have to wait?
The greatest learning experience came from a waiting time while transitioning from my divorce.  My world was falling apart and I wanted to fix it and fix it now!  In my anxious state all I knew to do was pray, but I always got the same answer "there is a bigger picture that you cannot see, wait and trust".
That brought little comfort, I still felt anxious and afraid.
While  identifying my emotions I recognized I was experiencing the fear of failure.  Coming from a successful family with good marriages, I felt like the black sheep.  I have a standard to live up to; people are watching me and if I fail I will be a loser!  I decided to face the fear of failure straight on and imagine both sides of the coin success/failure.
I visualized what it would be like to succeed, and then I visualized what I be like to fail.  The truth is that failure would not destroy me and if I did fail I would just move on and do something different.  My loving family wouldn't be as bothered as much I would.  So in reality everything would be OK in the end.  I remembered the acronym for FEAR: false-evidence-appearing-real.  My fear felt real at the time but in reality it was just me projecting negativity into my future.  It wasn't real today, so why I'm I so worried?
While facing the fear I was able to allow my vision of success to overpower the fear of failure. I realized that taking a risk and stepping out made me feel scared and excited, but was far better than taking no risk at all.
Now I see waiting as a vital time of introspection to discover what is inside of me.  Not torture but a tool that empowers me to evidently move forward to the future I desire.
Written by Renee Blankenship