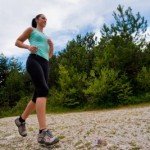 Fortunately Wellness is a concept that is becoming more and more the subject of conversation, so much so that you hear it defined as "a lifestyle that focuses on physical and mental well-being." Being fully aware of what it really consists of is not as easy. Let's take a look.
Physical activity and exercise
Even if "physical activity" and "exercise" are two different concepts, both are the most fundamental aspects of Wellness. Without them, we cannot talk about physical and mental well-being.
In the "World Health Report" recently, a report on the state of health on the planet, the World Health Organization pointed its finger at sedentary lifestyle as a leading risk factor for heart disease or other serious illnesses such as diabetes and even certain types of cancer.
"Move for Health" is the significant slogan WHO chose in 2003 to promote moderate yet constant physical activity as a natural medicine to help ensure good health and long life.
Even nutritionists in their recent diet pyramids finally point out how important an active lifestyle is for the overall good health of the individual.
Diet
Chances of disease are even higher if physical inactivity is combined with a bad diet and brings about other serious problems such as obesity, hypertension and high cholesterol.
This is why Wellness is also based on a complete and well-balanced diet. Our organism needs a balance of all the main nutrients to be healthy – carbohydrates, proteins, fats, vitamins, minerals and water. In order to know how to nourish ourselves in a healthy manner it is essential to know the quality and quantity of foods we eat rather than simply calculating the amount of calories.
Lifestyle
A few hours of physical activity and exercise each week cannot achieve total Wellness if combined with drinking too much alcohol, smoking, or not having enough sleep.
Regular physical activity and exercise are a great help to correct these bad habits and adopting a healthier lifestyle will make you more effective in our daily life.
Relationship with others
Achieving a state of effectiveness and full emotional stability is an important part of the Wellness philosophy. Feeling good about yourself is the first step to peace of mind and good relationships with others.
Building up and keeping real relationships of friendship and love can only unleash positive energy that brings us self-satisfaction and happiness.