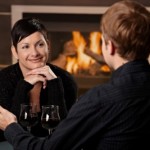 Single moms find that they often worry about the first date just as they used to worry when they were young girls. It is a fact that first impressions make a huge impact and first dates can make or break a relationship. While a lot of us will pay attention to how to dress and how we should conduct our self, we often forget the conversation bit. In most cases the conversation will play a huge role in the success of the first date. Get the conversation wrong and you are bound to be in trouble.
Below are some tips that will help you to understand what the taboo things are on a first date:
Divorce details – Stay away from your divorce details. This is not a conversation for the first date. Neither are you that close to your date that you would want to wash your dirty linen in front of him and in most cases he is not interested either. So don't go on and on about how you were the victim and how badly things went for the two of you. Remember, you have stepped out on the date in order to have a good time and talking about your divorce is not going to help you have a good time, instead may make you real melancholy and depressed.
Baby talk – You have kids, that's great for you but the guy sitting across may not want to talk about them too much, especially on the first date. Do not go on and on about how great your kids are and do not give out any of their personal details. Apart from boring your date to death, you may also end up exposing your kids. So stay away from all baby related conversation. Simple facts about how old they are, which grade they are in is fine but the kids should not be the highlight of your talk with your date.
Life's problems – Another topic you want to stay away from is problems in your life. Do not talk about how difficult it has been for you and how you have been given the raw end of the deal. Be it work or the personal front; do not come across as a cry baby. Keep this conversation for the girlfriends. You are on a date and talking about happy times will work in your favor much more that talking about the difficulties in your life.
When on a first date go ahead and discuss your hobbies, get to know what your date likes, talk about current events, historical ones, express your opinion on things that you discuss, talk about the food and so much more. The list of topics you can talk about is unending, on the other hand, the list of topics you should avoid are fewer. The ones above are great to keep away from when on a first date. So the next time you are stepping out on a first date with someone, keep these tips in mind.