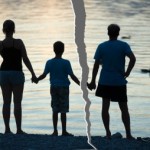 "Mommy, why won't daddy answer my phone calls or call me back?" was my son's question – at the age of six- after the umpteenth time of trying to get in touch with his dad.  How do you answer that question?  Honestly, is how I tried, "I don't know, honey, he's just not thinking.  It has nothing to do with you."
I sent him an e-mail via his Facebook page, in which he has over 600 friends established.  How can Mr. Popularity communicate with 600 strangers, but not communicate with "1" familiar son… I'm just sayin'.  Anyway, my e-mail read something like this:  Thought you'd like to know that your son is an "A" Honor Roll Student, has numerous awards, and was interviewed on a local morning talk show for co-authoring a children's book.  He followed-up with no response.
Land without water is a desert.  The sky without luminaries is darkness.  Two slices of bread with no meat is a wish sandwich.  Families without a father are dysfunctional.  Well, that's what they're called anyway.
I looked up the meaning of dysfunctional because that's what I do.  I love digging deeper into a word; you can get a true sense of the meaning.  It's very enlightening.
Dictionary.com has these definitions for dysfunctional:
World English Dictionary
1.     med (of an organ or part) not functioning normally.
2.    (esp. of a family) characterized by a breakdown of normal or beneficial relationships between members of the group
It is synonymous with counterproductive, purposeless and hopeless, to name a few.
I don't believe that a single-parent home has to be "dysfunctional".  Yes, it is challenging, but not debilitating.  If you just know your worth, believe in yourself, and take charge of your circumstance in a positive manner, you can be productive and extremely successful.  In addition, "everyone" has a purpose, and we all have hope.  Hope is a free gift!
Let's talk about your worth for a moment.  Do you know what Pure Religion is?
The Book of James 1:27 describes it as such, "Pure religion and undefiled before God and the Father is this: To visit the fatherless and widows in their affliction, and to keep himself unspotted from the world." KJV
Dictionary.com defines widow as:
1.    a woman who has lost her husband by death and has not remarried
2.    a woman often left alone because her husband devotes his free time to a hobby or sport
In many cases, women have become widows by definition 1.  In many other cases, women have become widows by definition 2, but by more extreme measures.  The spouse/father doesn't return at all.  Their hobby – dodging responsibility – never ends.  They are MIA, with no support or contact.  The family has been completely abandoned.  Even though, in some cases, it is better that way (abuse/neglect), it doesn't change the fact that you live as a widow and your child/children as paternal orphans.
God is protective of such ones.  He knows your struggles and cares for you deeply.  So much so, He instructed His followers to look after the fatherless child and widows in their affliction and called it "Pure Religion".
You can probably reflect on trials in your life and realize you got through them…somehow.  Like the time you didn't know how a bill was going to get paid, but then it did.  The time you lost your job and were wondering how you were going to survive, but you did survive until that perfect job came from out of nowhere.  Or, the time you didn't know what you and your child/children were going to eat for dinner, and then a friend or family member invited you over for dinner that night.  They didn't know that you couldn't grocery shop until you got paid the next day.
Remember "Footprints"?  Well, it is true.  Our Heavenly Father is always there for us, even when we don't know it.
Please believe that, work hard, never give up, stay positive, do the BEST you can, and God will do the rest.  He makes the 'dys' in dysfunctional disappear.
So now, let me ask you, "Is there really no He in S'He'?"
Written by Alice Monterio