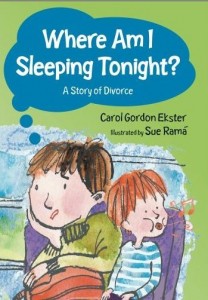 Where Am I Sleeping Tonight?-A Story of Divorce, Boulden Publishing, 2008, is the only children's fiction storybook about shared custody for the elementary school aged child.
The story is about two brothers, Mark, a 4th grader and Evan, a 1st grader. It chronicles their daily life, having two separate homes, and the common experiences children with divorced parents experience, both the challenges and the benefits.
After their parents' divorce the boys' lives and schedules have been scrambled.
Here's an excerpt from the book:
"Mark, whose house are we at?" my little brother Evan whispers.

My eyes aren't open, but I am awake. I hear Maddy in the Morning's radio show coming from down the hall.

"We're at Dad's," I answer.

Mom and Dad got divorced three years ago. It can be tricky living at two houses.

xxxxxxxxxxxxxxxxxxxxxxxxxxxxxxxxxxxxxxxxxxxxxxxxxxxxxxx

The older brother, Mark, sometimes forgets his homework at one house or the other. But with time, effort, and the assistance of his parents and teacher, Mark gets more organized, and most importantly, starts to come to terms with his parents' divorce. He also decides that he's going to be there for his brother Evan every day of the week.

The book presents the issues of living in two different homes. It paints a realistic picture and still leaves room for hope. It balances the idea that kids can overcome the consequences of divorce without implying that the process is easy or that kids should just "move on"
The author, Carol Gordon Ekster, a semifinalist for NH Teacher of the Year, taught elementary school for 35 years. The book, inspired by a former student who led this difficult schedule, was a finalist for About.com's Readers' Choice Awards 2012 for the best book for single parent families.
You can see inside the book at the publisher's web site.
If you'd like to learn more about the book, the author, find activities to coordinate with this book, and find links as to where to purchase it if interested, you can check out the author's web site at: www.carolgordonekster.com