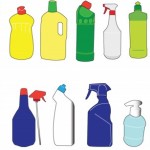 It is a fact that most cases of poisoning are due to household chemical cleaners. Emergency rooms report these poising cases very often and yet we continue to use the cleaners despite the threat that they pose. This could be because most of us are not aware of the severe dangers of these chemical cleaners and take them to be just simple cleaning agents that will keep our homes hygienic.
Lets us take a look into how these chemical cleaners are a huge hazard and why they can be lethal:
Ingredients – Most chemical cleaners have very potent ingredients in them. High levels of ammonia, chlorine and even bleach are common ingredients of these cleaners. All of the chemicals listed above are very dangerous. The fact that these are packed into cleaners and we bring them into our homes makes these cleaners a potential threat. All of these chemicals react with the skin causing it to burn, can hurt the eyes to a level of blindness and even have the power to kill in case consumed by you or your pet. The fact that most cleaners will use a sweet smelling odor to cover up the foul smells of these dangerous chemicals makes matters even worse since we are not repulsed by them as we should be.
Flammable – All most all chemical cleaners are flammable. Right from furniture polish to air fresheners to even oven cleaners, they are all highly flammable. This means that these products are like bombs ticking in our homes. A small fire could make them blast out and increase the damage manifold. The high number of deaths and fires that have resulted due to even a small can of room freshener catching fire go to show clearly how dangerous these chemical cleaner cans can be.
Corrosive – In case no accidents occur and all goes according to plan, even in such a scenario these chemical cleaners are a hazard. Not only do the chemicals in these cleaners increase the risk of deadly diseases like cancer in our system but also affect other areas such as our nasal passage, lung passage and even our skin. Air fresheners are known to hamper with our sense of smell, while chemical detergents tend to stick to the fabric and are absorbed by our skin causing serious ailments. The fumes from toilet cleaners and oven cleaners burn our system from the inside and play havoc with it. All of these damages happen despite taking all precautions. These side effects are a part and parcel of using chemical cleaners and there is n way to fight these corrosive default settings of a chemical cleaner.
To make matters worse most of us tend to buy these cleaners in large quantities and store them in our homes. This increases the danger. A large number of people lost their lives to chemical cleaners and many more have suffered irreversible damage to their system. The only way to safeguard our homes from these threats to is to try to work with natural cleaners instead of opting for these expensive and dangerous chemical ones. Especially when having kids around…