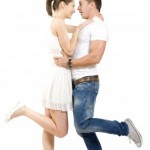 Going from being married to single again can be a very difficult journey and will very often leave a wound that takes a long time to heal. Those of us who have walked this path know that picking up the threads can be a tedious but it is also very essential. Dating again is a large part of getting back into a normal routine. There are many women who wonder why they should even bother with dating again after having suffered. They may feel that maybe they are destined to be alone and thus avoid dating. However, this is not a healthy long term approach.
Let's look at a few reasons why you should get back to dating despite having come out of a broken marriage:
Feel good factor - dating lends a feel good factor to us that cannot be compared to other things. The joy of steeping out with your date and enjoying the moments you spend together will help you relax and gain your confidence back. When you begin to date again you will find that the man-woman connection helps you to feel alive and rejuvenates you. This feel good factor is important to keep you away from depression, negative thoughts and also an overwhelming sense of loneliness.
Second chances – Life is all about second chances and if your marriage failed, this does not mean that you give up on life altogether. Getting back into dating will allow you to begin your life afresh. Meeting new people, getting to know them is a great way to start your life over again. There is a huge chance that you will meet someone who you could build a stable relationship with once more. If a marriage is not what you are looking for simple meeting new people and going out with them a couple will also be therapeutic for you and help you keep your confidence soaring.
Companionship –  Man is a social animal and we are not meant to be alone. While in the younger years we may feel that taking on life alone is not a big problem, in the later years this scenario changes. Companionship is very important for all of us and dating is a great way to find this companion. Shying away from dating will only make you lose time. Eventually the loneliness will get to you and you will pine for someone in your life. Getting back to dating will help you get rid of this loneliness and find a companion who you can share physical and emotional stuff with.
Shelving dating indefinitely is not a good idea. The sooner you go back to dating again, the easier it will be for you to get back on track. Staying alone will only make you feel more and more dejected. While it is true that you need to build your life around yourself, it is also true that finding a partner to share it with will make things worthwhile. So, don't push away dating and get out there and see what the world has to offer to you.