The biggest reason we fail at relationships is because we are afraid of being hurt. The specific reason isn't important but the fear of being hurt and feeling pain and rejection is enough to keep us repeating the same scenario or avoid relationships all together.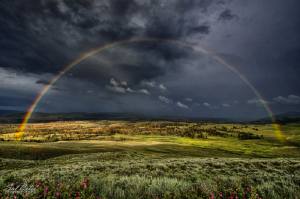 I know I used to struggle with this a lot. It seemed so unfair and tragic to me that every single time I would start to really like someone, they were gone. I came to expect that every time I started to genuinely like a guy, he would leave and so I put up all these walls to keep them out. I was so afraid to let any man in because I knew he was going to leave eventually and avoiding that pain was better than taking a risk. Well, all I accomplished was feeling very lonely and hurting myself more than anyone else could have. I felt like there was no hope and maybe I was destined to be alone for the rest of my life. It wasn't until I started changing my perception of that pain I had felt so many times over that things started to change.
Emotional pain does hurt and I'm not denying that but there is a way to look at it that inspires hope, wisdom and new possibilities. Pain is a very strong indicator of something you don't want and even more importantly, pain is a guide directing you towards something you do want if you're willing to have faith.
When we hurt, this is our subconscious-self coming to the surface to tell us that something is happening that we don't want. It sounds simple enough but instead of letting this pain direct us towards something we do want, we let it make us feel like we're even less worthy of what it is we really do want and so we stay stuck. We repeat the same pain causing scenarios or we close ourselves off to possibilities. Here's an example using a single mother friend of mine. She was married for ten long and seemingly happy years until her husband decided to leave her to raise their kids while he ran off with another woman. Horrible! I know! The pain she still feels from this has caused her to block any possibilities of falling in love ever again. But what if she could use this pain to see that she doesn't want to be with a man who will run off? That she doesn't want a man who is going to take advantage of her kids? What if she could take this pain as a realization that she deserves a connection with a man that is so strong, she knows it will last forever. This woman deserves a man who is going to stay through the good and tough times and she is so amazing that there are plenty of men out there who will but so long as she allows her pain to hold her in fear, she won't meet any of them.
There really is a good and bad side to emotional pain and it's up to you which one you want to feel more. The bad side of pain holds you in a stuck and fearful place that keeps you locked away from life. The bad side of it keeps you stagnant and we are not meant to stand still. Every end is a new beginning, every rejection a new acceptance and every tear you shed is a chance to smile again because every minute of every day is another chance to start over and try something new. The good side of pain is that it teaches us more about who we are and what we want. It says to us, "This is not what you want so look another direction". When you know what you don't want, you know more about what you do want.
You have to have faith in this though because after feeling pain, it takes courage to keep an open heart so that you can seek what it is you do want. You have to be willing to step out of your comfort zone and trust yourself and you can trust yourself because you are the one who told you what it is you don't want by feeling pain.  If you never felt pain, how would you know what really makes you happy? And when you do have relationships that make you happy, how would you know how much you appreciate them without feeling the opposite?
The next time you are hurt emotionally in a relationship of any kind, stop and say to yourself, "Okay, I am hurt because something that I don't want has happened and so what is it that I do want?" It's all about letting pain show you what you do want so that you can keep moving forward. You deserve to be, to give and receive love and every day is another chance to have more love.