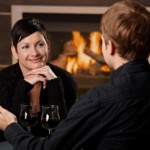 Single moms tend to believe that all good men are taken, and if they are going to start their lives all over again, they better be prepared to settle for whatever comes their way. Nothing could be further from the truth. Statistics go to prove that a very high number of couples are going through divorce and strangely second marriages are faring much better than first ones.
Finding a 'good' man is not an impossibility for a single mom, and don't let anyone tell you otherwise. There are a lot of decent men out there and despite being a divorcee and a mom, you are sure to find someone nice.
Here are a few reasons why men are today more open to settling down with single moms:
Good bets – Single mothers have proved beyond doubt that they are capable of looking after a family and tending to kids. This is very attractive in a man's eyes. Seeing you take care of your children and manage home in an efficient way can bring forth a man's desire to set up home with you. What was initially seen as a burden today has transformed into a good quality and men are much more open to settling down with women who have been in marriages before.
Understanding – While someone who has not experienced a marriage before may simply be in love with the idea of getting married, divorced women know what marriage is all about. This is why, when such a single mom wishes to marry again, the man is sure she is walking into it with her eyes open and not just simply because she wants to have a lavish wedding.
Maturity – Becoming a mother does humble us in many ways. It also helps us grow as a woman and this maturity can be very attractive to men who are looking for it. Men looking to stay with a mature woman who has her head firmly planted on her shoulders find single moms very desirable.
Similarity – With the divorce rate shooting up, there are a lot of divorced men out there too. These men find that ladies who have suffered a similar fate tend to be more compatible with them. Younger women who have not been married before may not understand the need to stay in touch with the children from the first marriage etc. This make single moms much more of a compatible pairing with these men as opposed to unmarried ladies.
Do not let anyone force you to settle down with a man that you are not so sure of just because you are a single mom. As a single mother you have several advantages and there is no reason why you should see yourself as inferior or lacking in any way. Your chances of finding a good man as just as many as a single woman's are.