What is an emotional safe place? You know when the kids have just driven you over the edge and you escape to a quiet secluded place to regain your control before you say or do something you'll regret? This is what I'm talking about! This is an emotional safe place! A place where you can regain your control before you do something you can't ever take back.
Whether you're just dating or in a committed relationship, there are times where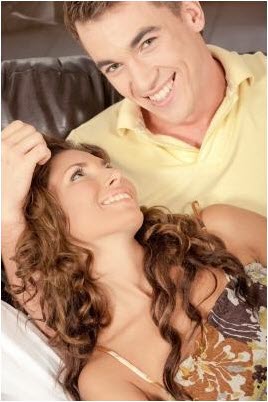 men (just like your kids) will push you over the edge! It could be that he just said something really hurtful or maybe he completely forgot your birthday even though you've been together for five years and planned a "boy's night" instead! And what makes matters worse is that we women are naturally emotional creatures which make us more susceptible to bursting out into an emotional rage! But hold on to those tears and retreat! Go to your emotional safe place! You need to go forward with your cool head. Not your hot head.
When I found my emotional safe place, my serious boyfriend had just broken up with me. This break up caught me completely off guard. I was very much in love with him and it crushed me. I felt like someone had just punched a hole in my chest and all I wanted was something to stimulate my brain away from the emotional pain I was feeling. So I went into my bathroom, turned off all but one dim light over my shower, turned on the hot water and just let it fall over me until it ran cold. It was just what I needed. Little by little, I felt myself regaining control until my tears stopped coming and I was ready to emerge from that shower with enough control to begin the healing process. From that night on, my hot shower with that one dim light became my emotional safe place. This is where I escape whenever I feel I've lost control over my emotions. I go here to regain my control and get in touch with how I really feel so that I can deal with the issue in the best way possible.
An emotional safe place doesn't necessarily have to be a physical place. It can be a place you create in your mind, an atmosphere or basically anything that soothes your mind. Yes, it can even be the ever popular daydream of a picturesque beach where you're sprawled out in the sand. The point is, is that it's where you go to recharge and reenergize your emotional state.
Why do you need an emotional safe place? When we get really angry or hurt, we tend to be selfish and think about ourselves only. We act out and say or do things in the moment that we may very well regret later on and this can be devastating to a relationship of any kind!  For example, I remember one year on my birthday I came home from a long hard day at work to a surprise birthday cake decorated by my kids. Sounds sweet right? Well I quickly realized that this cake was actually a week old leftover cake from my previous college graduation party. I thought that was gross and I told my husband (ex now) that he should've just bought a new one instead of being lazy and using a cake that was too old to eat. Yikes! I still regret saying that! Not only did I hurt him but I hurt my kids as well. Had I had my emotional safe place, I could've excused myself for a little bit and I would've made a much better decision. Instead, I would've thanked them for their hard work and I would've gladly eaten that week old cake!
Emotions are your minds temporary reactions to stimulation and they can cause you to damage relationships beyond repair. You have to recognize when your emotions are taking over and you need to back off for a while. It may feel good at the moment to yell and say hurtful things but like I tell my kids, you should never ever act out of anger. Just because you're angry, hurt, scared or whatever right now doesn't mean that you'll feel the same way tomorrow. When you feel these emotions, you can't let them control your actions. You have to get back in touch with your heart and your instincts. They are what should control your actions because like I've said before; your heart will never mislead you. Your heart is controlled by your true feelings. The ones you can productively act from.
So go…go…go! Go designate your emotional safe place before he cancels your date tonight at the last minute! When he sees that your night isn't ruined over it, he'll think you're the coolest and sexiest woman he's ever met.
Written by Kristy Casto
If you liked the post and want more, vist her blog