Have you ever noticed how your friends who've never been married before can treat dating like they're interviewing for a man to fill the position of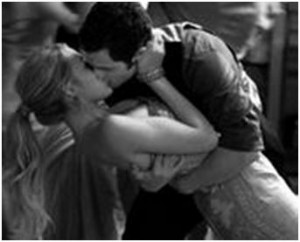 Husband? They're planning out the rest of their life and looking for Mr. Right. A lot of them have age limits picked out that they want to have kids by, they know the exact church and month they want to get married in already and some of them even have wedding boards on Pinterest. And they're still single! Then there's us women who've been married, divorced and we're back in the dating game. We're out there trying the Cougar thing, the sugar daddy thing, buying little black dresses that we would've never worn before and heels higher than we've ever worn before. We're like kids in a candy store. This is something that has always amused me. When my younger friends come to me with worries that they'll never find Mr. Right, I want to shake them and tell them to chill out and that there are billions of men out there so have fun and Mr. Right will find you! So why the difference?
Enough work, time for play! Most women who have gone through a divorce will agree with me that their marriage was hard work. What we thought was going to be a blissful lifelong partnership turned out to be an exhausting never ending battle. And we're tired of all the work that we put into a marriage and the divorce that followed! Now we want to have fun! We want to feel young and beautiful again. We want excitement, adventure and romance. When we were kids, we had it right but then we became adults and learned about expectations and fears of being alone and we spent a lot of time planning out our lives just to learn that life doesn't always work out the way you pictured. We've learned that enjoying each moment as it comes is the way to go and that having fun is underrated in our adult world. We're ready to feel like teenagers again but this time with a lot more wisdom.
Our biological clock has been thrown out the window. Divorced women aren't looking for someone to give them children anymore. Most of us already have children and now we're looking for someone to add to our happiness. We're not looking for someone to be a good father to our future children; we're looking for someone to be good to us. As a teenager we all dreamed of finding the perfect guy, getting married, having beautiful children and so on but it was more about the fantasy. Then when we became young adults, we felt like getting married and having children was an expected accomplishment. Having children is how a man would make us into real women. Then we did it and learned what being a mother is really about. Now instead of looking for father material we're looking for someone who can bring fun, happiness, excitement and love into our lives. We no longer feel under accomplished because getting married and having children is not an accomplishment. It's an extension of you.
We're spoiled with no apologies. A lot of women think that you have to make sacrifices for love. That once you're married you have to work hard and sacrifice to maintain your marriage. But if you constantly feel like you have to prove your love to someone, what's the point of being with them? Here's a secret…Love when it's real should make you feel spoiled. Women who have been married and divorced have learned this. We sacrificed and we worked hard to be married and where did it get us? Lost and more confused about love than ever! But we sifted through that confusion and we learned that to fall in love we had to learn to love ourselves first. When you love yourself, you spoil yourself because you realize that when you're happy and at your best you can give your best. We know that men love a woman who spoils herself with no apologies. Just like teenagers, we put ourselves first. We know that when we're happy, love comes easy.
We believe in Prince Charming again. As teenagers we daydreamed about Prince Charming riding up on his white horse and sweeping us off our feet. Then we replaced daydreams with worries about our so called "adult issues" such as careers, money etc… and one of those adult issues was finding Mr. Independent; a man with a career, money, stability and common sense who was not necessarily Prince Charming but someone who could provide. But then we did find Mr. Independent, married him and learned the hard way that we settled for the wrong reasons. But now, we're not looking for someone who can provide for us because we can provide for ourselves. We're looking for someone who can inspire us and make us feel butterflies and sweep us off our feet in ways we've never expected. We're looking for Prince Charming again but this time he's not just a daydream. This time he's real and it's only a matter of time before he finds us.
So have your little black dresses and high heels ready because you deserve a Prince Charming who will make you feel like a hopeless romantic again. And whether you've been married or not, know this… Love is not an accomplishment or proof of your worthiness. You were worthy of a love greater than any fairytale since the day you were born. Love is easy, magical and fun so get back to your daydreaming and expect the reality of it because the more you expect it, the sooner you'll find it.