Have you asked yourself this question lately? Thinking of going back to school, but afraid of the tuition costs? If so, you are not alone. When the economy slows down many think about returning to school and finishing their college degree. But with the rising costs of tuition the thought can seem pointless. It's tempting to just continue working and give up on that dream of a college degree. At least you'll have a job and no additional debt, right?
True. Giving up on that college degree will mean no additional debt, but it doesn't mean you'll have more money.
Check out the table below from the US Dept of Labor, Bureau of Labor Statistics.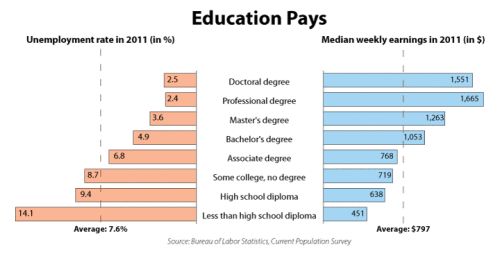 Image Via www.bls.gov
A college education will result in you making more money over the course of your lifetime, even in today's down economy.  The higher your education the higher your salary! Believe me, this is true.  I once earned $10,000 – $15,000 more than my colleagues, simply because I had a bachelor's degree and they did not.
Bottom Line: Education Pays. Plus college graduates have a lower unemployment rate than those with only a high school diploma. If you've been dreaming about going back to school, don't let rising tuition stop you from realizing your dream.
Written by Naiyma Houston