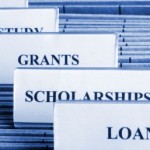 College and university education does cost a lot and this is the reason why many parents will start saving up a college fund right from the first year of a child's life. However, for those of us who did not have such a well planned life, there are financial aid options available in case we wish to pursue college education. Student loans are financial aid that can be adopted by almost anyone who is looking to go to college. These options are also available to those who wish to take the loan for thei kids.
The question now is understanding how these loans work, and figuring out if they are going be feasible options for you or not.

A few notes below will help you decide if you should apply for a student loan or not:
High performance – If you are someone who can boast of a high academic or sports performance then it is a good idea to look into the scholarships that the college you wish to join has to offer. Remember, scholarships do not need to be paid back and you will benefit a lot from them as opposed to taking a student loan. So consider a loan only when you are not able to find financial assistance from scholarships or grants.
Repayment options – While there is not denying the fact that a student loan does come at lowered rates of interest, you still need to pay it back. You must therefore go through the repayment options. Most student loans offer a grace period to the student while this option is not extended to the parents. In some cases the repayment grace period can be 6 months from taking the loan while in others it could be even up to a year after you have finished your course. Starting repayment after graduation does help to keep the pressure off your shoulders till you can get a job, but it is also important to balance the interest in this case. The repayment options must suit you if the student loan is going to work for you.
Serious – There is hardly any student loan in the country that will allow you to keep dropping a course. In most cases, if you drop a course, the financial institution will give you a grace period of 6 months to pick up the course again, otherwise you will not be given the remaining loan. Your credit rating will also be adversely affected. Take a student loan only if you are sure that you will be able to go through the entire course and that the course will help you to better your earning capacity. Taking a student loan, which you will be stuck paying without even benefiting from the course of study, will work out poorly for you.
Student loans are no doubt helpful, but they are loans nevertheless. Simply taking a student loan without considering the pay back will get you into trouble. So carefully read the small print of the loan and do not opt for an unrealistic payback option, even if it means spreading the loan out over a longer period.