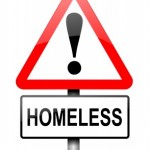 I went into labor a three weeks in advance and when I came back from the hospital with a healthy baby girl and after  a normal delivery, I was told by my land lady that my boyfriend had left a note for me. We had decided to get married but the early labor had shelved the plan. The note said that he is sorry and that was the last I heard from him. With no money and a day old baby girl with me, I did not know where I was going to go. The only solace was that I had paid the rent for the coming month and so had the flat to myself for three more weeks.
I often wonder when people talk to me about post partum blues. I had no time for blues or any other color for that matter. I had three weeks in which I had to find a place for my daughter and me. I began by selling off my 'engagement' ring. I used the money to buy groceries and a few clothes for my baby girl. From then on it was all downhill.
Adapting to feeding the newborn every two hours, going through the day with hardly any sleep and in the mean time also trying to figure out what I am going to do after a couple of weeks was taking up all my time. Things got so bad that I did not even cook food. I would eat junk out of a box mostly and just have a glass of milk and call it a night. With no one to go to and no money I began to panic. Many I times I contemplate giving up my baby girl for adoption since there was no way I was going to be able to bring her up like this.
With no hope in my heart I made up my mind that I will give my little girl up for adoption. The first times I set foot outside with my girl was a week after her delivery and sadly it was to look at some adoption agencies that could help me find a home for her. Not knowing where to start from I began by going to the hospital where she was delivered and they asked me to wait while someone was organized to talk to me. Instead of waiting in the hospital, I decided to walk down to a church next door simply because I felt there would be less infection there. There was no God in my mind and no hope either. I simply saw the church as a better place to kill an hour as opposed to the hospital.
Today I am a believer. I believe that if you have God in your heart, you also have hope. While I sat in the church crying to myself and feeding my little one, I had a lady walk up to me. She sat with me and we talked. I wanted to pour my heart out and despite the fact that the person I was talking to was a stranger; I simply went on and on. She calmed me down, got me a glass of water and also some muesli bars. She explained to me that there are options for me that the church could organize and this did help me gain some emotional strength.
Once we got talking I realized that the church is working in a big way to help homeless. The fact that I had no one to go to and a child to care for put me on priority and within a weeks' time I was allotted shelter the Mercy Housing Live-In Hope. The relief that I had a place to stay in and that I was not going to be out in the streets with a three week old baby was tremendous for me. The shelter was everything I needed.
I got that much needed support and dedicated the next one month to caring for my baby girl. Once she was two months old, I applied for daycare support. I found a lot of options on the net to find the right daycare for my baby.
It's been two years since then. I got myself a job at the grocery store and would go to homes over the weekends to help with the cooking and laundry and cleaning. From here on things began to get better. I saved up money, got out of the shelter, took up a place of my own and even moved to a restaurant as a waitress. Today my baby girl is soon going to be off to play class while I am seriously contemplating getting my degree after all.
Even today when I look back at the time when I had no home to go to and no hope in my heart I shudder with fear. What would have happened if that day the hospital had not asked me to wait? I may have given up my baby girl and that thought alone makes me break out into a sweat. I cannot imagine life without my baby. She was the only force that kept me going in life. I kept fighting for a better life for her and for myself because of her.
I believe God wanted to test me. He showed me the path to hope and gave me the strength to go on. I urge women who may be in a hot spot like me to not give up hope or their babies. Seek out the strength in you since there are always options. Look around and you will find a solution. There are a lot of grants and charities that will help. All you need to do is be prepared to work hard and keep your resolve strong.