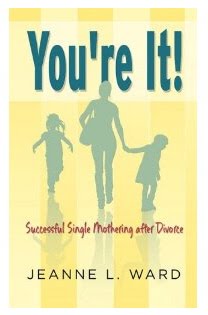 You've just become a single mother. There are tons of thoughts running through your head including self-pity, reluctance, and maybe even unresolved feelings about your ex-husband. Allow yourself a few days of pity and large amounts of chocolate and then pick up this book and learn to again embrace the wonderful possibilities life has to offer.
You're It! Successful Single Mothering after Divorce will teach you to take a hard look at yourself, create a plan and move forward to be the best woman and mother you can be. Accomplishing these things is a process and does not occur overnight; however, with time you will learn to approach your life with a deep commitment to yourself, your children and your life as a family.
Divorced single mothers can now gain practical personal and parenting support through a truly unique perspective by reading You're It! Successful Single Mothering After Divorce.
This is a comprehensive guide for all divorced mothers. In fact, it's a MUST READ for every divorced mother. I only wish this enlightening book had been published when I was a divorced mother many years ago. This educational and entertaining book answers every question a newly divorced mother might have about "next steps and reality."
The author is an authority on this subject and writes this how-to book from personal experience and knowledge — Delores Kesler, Chairman of the Board PSS World Medical.
Article by Jeanne L. Ward
Buy You're It! Successful Single Mothering after Divorce by Jeanne L. Ward – on Amazon