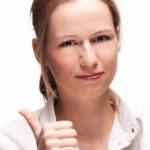 Mary is what you might call an "Accidental VP." She graduated from college with an English degree and planned to go to law school. But life rarely goes in a straight path, and with student loans to pay off, Mary signed up for an on-campus interview with State Farm. They offered her a job, and today she looks back at her decision to take it with no regrets. "I figured I'd work a year or two until I got something else," she says. "Now 25 years later, I've never been more fascinated with the insurance and financial services business. It's a passion of mine, and I truly enjoy it in a way I never dreamed I would."
During Mary's first 13 years at State Farm, her husband's job took precedence. It required a lot of relocating, and in her own career, she moved laterally and sometimes backwards to accommodate this. But those years increased her knowledge of how her organization works in a variety of areas. She also developed an important skill that she attributes to her current success: speaking her mind. "I wasn't worried about climbing any corporate ladder or trying to impress someone," she says. "That gave me enormous freedom. You have to be willing to speak up. Certainly do it respectfully, but speak your views with conviction."
Mary's tips for advancing:
Know your company.
"I want to leave this organization a better place than I found it. I'm very driven to make sure that we provide the best service and products possible. I've moved around so much that I have knowledge of many parts of the company, and the interplay between them is fascinating to me."
Continue to learn.
"Don't evaluate a job by the position you're in but by what you will learn. It's humbling to start a new assignment because we all like to be competent at what we do. If it's uncomfortable at first and you have to ask questions, that's a good sign. That means you're learning a ton of what it takes to run the business."
Keep an open mind.
"If you're lucky enough to know what you want to do, then follow that passion. But sometimes life gives you curveballs you don't expect and they take you on different paths. Those can be the greatest lessons and gifts of all."
Article by Mary Crego – Senior Vice President – State Farm