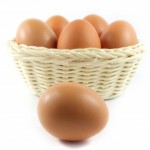 Everyone wishes to look younger, better and more attractive and for this right from hair care products to skin creams to even diet plans, we are willing to adopt it all. Depending on our pocket we spend on cosmetics and hope that we will benefit from these. In most cases all we do is expose ourselves to various chemicals that do nothing good for our appeal but instead can harm us severely.
When looking for good cosmetics it will help to search in the kitchen as opposed to the mall stores.
Some very useful cosmetics that are very effective and can be found in your kitchen itself are listed below:
Eggs – If looking for a hair conditioner that will make your hair soft and shiny then there is nothing better than beaten egg. The egg should be applied to the scalp and the stand length and left for about 15 minutes. A through wash after this will clean the egg out and leave the hair shiny, clean and soft and most of all healthy.
Bananas – These fruits are rich in minerals and come in handy to make everything right from packs to hair packs to even hand softeners. A large banana beaten up with a cup of yogurt makes for a great anti dandruff pack for the hair. A banana with few drops of glycerin will make a good face pack and a banana and aloe-Vera mix is the best for rough hands and elbows.
Garlic – Garlic juice is very effective for wrinkles and mixed with some vitamin E and a little milk, the combination should be applied on the effected area and left to dry. Washing away with cool water is the best way to go about cleaning the cream.
Honey - This is one natural products that has a lot of benefits. Not only does a honey milk and lemon drops combination work as a fantastic face lift but it is also great for rough heels. Honey mixed with turmeric powder makes for a fairness cream too.
Milk – Full of calcium, milk works for many cosmetic purposes too. Applying milk and lemon oil to the nails makes then shiny and strong. Using milk cream on the face helps fight dryness and dabbing milk around the eyes also works to fight dark circles.
Pulses – A hair pack made from oats water and ground pulses is very good to prevent hair loss. In fact adding some onion juice to this mixture helps to make the hair stands thicker too. Massaging this mixture into the hair and washing if off with plain water after it has dried is the best way to clean your hair without using chemical laden shampoos.
These and many similar products that are commonly found in the kitchen make for some very good cosmetic products. The fact that these kitchen remedies are free of preservatives makes them all the more better not to mention the fact that they are much cheaper than their chemical counterparts.
ps