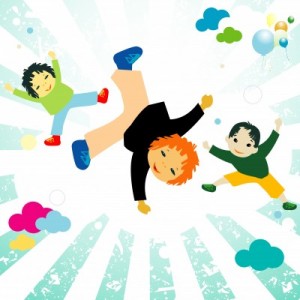 When I was running my Home Daycare business, I noticed how many parents went overboard planning their children's birthday parties. I never understood why so many parents pressured themselves to out do each other. In my daycare a child's birthday was a fun and wonderful celebration too, but it was very simple and homemade.
First off, we all decorated that morning with simple crafts like coloring and drawing on those inexpensive paper plates, the birthday child's name was written on every plate and we hung them with ribbons around the house. We all helped make the birthday cupcakes, or cookies, and took great pride in decorating each one. The day before I asked the birthday girl/boy what was his favorite breakfast, lunch and snack? That's something I did for all five of my own children. On my kids birthday, they each got their favorite after school snack and their choice of a homemade dinner.
In the daycare setting, we had fun, age appropriate games and activities. Those old fashioned simple games, like "Treasure Hunts," I would hide their candy and little toys.Then they would grab their brown lunch bag, that each one of them decorated and scatter to find all their "hidden treasures."
Another game was musical pillows… instead of chairs I had huge oversize pillows and this was much easier for them to" plop down" when the music stopped. Also no child ever fell over on a pillow! We also played "toss the ball in the basket." I used a large plastic bin and made a line for the children to stand behind, and each of them had three turns to throw the ball in the basket. The winner was the one who threw the ball into the basket the "most" times. Remember, these are 2, 3, and 4 year olds. We also played outside games, like hula hoops, and throwing paper plates as Frisbees. We had races and more "treasure hunts" to find a "hidden toy."
At lunchtime they were so proud to have all of us sing to them and blow out their candles. I lit a big candle on our dining room table for their birthday meal. All of the other children were proud of themselves too, for helping with preparing the meal. Everyone can get involved and they are so happy to be your little helpers! I encouraged all the daycare "moms" to send a simple, practical gift, as they all wanted to bring a gift too. The presents were sidewalk chalk, play-dough, crayons, coloring books, a reading book, a puzzle, bubbles, or something else that was inexpensive. The true birthday gift was having all the daycare kids around their buddy and having a special day together.
The point is birthday's don't need to be over-the-top expensive. These little kids loved their day, and were so tired out from all the fun, and by the time it was their nap time, they went out like a light! It doesn't take very much to be creative and inventive for toddlers. They just want to have a special day and have fun with their friends. Family, friends and fun doesn't have to drain your bank account. As your children get older they will expect much more and you will be spending much more too. So keep it simple during these early years, and keep the focus on what's most important: The celebration of your child's Special day!
Article by Laurie Cesario-Overton