… and anyone else who is a single parent
a book by Mary Elizabeth Jones
Are you looking for a single parent guide written by an author who understand and shares your experience? Are you a single mother by choice? Are you looking for single mother assistance or single mother help? Would you like to learn about single motherhood? Does it seem difficult being a single parent in general? If you are able to answer yes to any of the above questions regarding single parenthood then "A Single Mother, A Few Perspectives… And anyone else that is a Single Parent" is the book for you. This incredible self-help book uses valuable strategies to assist single parents in maximizing their time, energy, and resources so they can make the most of their lives for themselves and their children.
Source: Book's Amazon page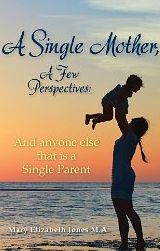 The author had the amiability to send an excerpt dedicated to SingleMom.com's readers. Read it below.
And, how knows? Maybe with enough feedback from you, our readers and visitors, we'll be able to convince her to send even more excerpts, so don't hesitate to express your opinions at the bottom of this page. It would be a huge help. You may use your facebook account too.
Excerpt One
Now You Are a Single Mother: A Few Directions to Look Forward To
Life is simply what you make it. – Anonymous
Mothers in today's society are becoming younger and younger. I have personally met and talked to pregnant females as young as eleven years old. Although I was a teenage mother once, I do not condone teenage pregnancy. It is a reality of life that must be dealt with and discussed. The information throughout this book must be used accordingly.
In other words, a thirteen-year-old single mother could and should not use the same advice that would be given to a twenty-three or thirty-three–year-old mother. But no need to worry, there will be informational pieces for both types of single mothers, since each is still an unmarried female with a child.
A female who is fifteen years old or younger and who is expecting a baby or already has a child has extremely limited financial options. Of course, there is the option of baby-sitting a local neighbor's child or children to earn money, and this offers some overall parenting experience. But this will not provide a stable income to support a child. The government offers some programs for teenage mothers. These programs include:
LEAP (Learning, Earning, and Parenting) – Teen parents under the age of nineteen who are on OWF (Ohio Works First Cash Support) and who come back or stay in school to generate a qualification or G.E.D are offered childcare through this system. If certain specifications are met, members get a supplement through their current OWF check, and if the specifications are not met, their OWF check will be sanctioned. (This program is for Ohio residents only. Check your local county for a similar program.)
Source: ChildTrends.org
WIC (Women, Infants, and Children) – This program provides coupons for certain healthy foods such as bread, juice, and milk, and provides information about nutrition for expectant mothers and children up to five years of age. Will also perform developmental tests, such as the toxic lead poisoning check, and provide information about oral health. There are income guidelines for this program.
Source: WIC
Many fast food restaurants employ teens as young as fourteen or fifteen years of age, but they must abide by Child Labor Laws. The Fair Labor Standards Act (FLSA), which prescribes standards for the basic minimum wage and overtime pay, affects most private and public employment. It requires employers to pay covered employees (who are not otherwise exempt) at least the federal minimum wage and overtime pay of one-and-one-half times the regular rate of pay. For nonagricultural operations, it restricts the hours that children under age sixteen can work and forbids the employment of children under age eighteen in certain jobs deemed too dangerous. For agricultural operations, it prohibits the employment of children under age sixteen during school hours and in certain jobs deemed too dangerous. The Act is administered by the Employment Standards Administration's Wage and Hour Division within the US Department of Labor (United States Department of Labor, 2011).
With the restrictions of these laws, you cannot work too many hours. Your paycheck will be small, and any overtime will usually be off limits.
Many individuals are resorting to online resources for earning extra money throughout the month (some of these resources will be mentioned later in this book), but many of these websites require one to be either sixteen or eighteen years of age, and most of them do require a form of identification.
The best option for a new parent fifteen years of age or younger is to remain in school. I know this may sound a bit cliché, but it is true. Staying in school at this age is crucial because it is the only way to grasp important subjects that cannot be taught at home while watching television. Some of these subjects include but are not limited to having a firm understanding of math, which allows you to manage your money effectively once you are old enough to work.
School provides other non-academic benefits as well. For starters, consistent interaction among peers is priceless. Effective communication skills are essential throughout life. Talking to people within one's own age group is a reminder of youth, and it keeps a young mother from rushing into the adult years despite the "adult action" that were brought on by becoming a young mother.
Nevertheless, communication skills at this age will prepare a single mother to talk successfully with doctors, counselors, or anyone who may play an important role in the mother's and her baby's life.
Science is crucial. When I was younger, I took this subject for granted. However, when I started learning how to cook, I appreciated it more after the microwave caught on fire when I kept the aluminum foil wrapped around my fish sandwich, or after I touched a light bulb with wet hands. Many small procedures in the kitchen are based on an understanding of science. Learning about science at school prevents accidents and gives insight into how nature works in general.
If you're a teenage mother, you may ask yourself, "Who will care for my baby while I am still in school"? This may be a difficult question to ask if there isn't a good relationship in place with your parents. Do you have a family member with stability who knows your situation in its entirety and may be able to help you? Is there a civil, communicative relationship in place with your child's father's family? Is there someone you personally know and trust who has experience with young children and has extra time throughout the day? If you were able to answer yes to any of these questions, then that gives you a good idea of who to sit down and talk with about helping you take care of your baby while you are finishing the crucial years of school.
But if you were not able to answer yes to any of these questions, it would be best to speak to a guidance counselor or other administrator who can lead you in the right direction to help care for your baby since every situation is unique or different. Then again, if you are enrolled in any of the programs mentioned above, your local county will usually provide a voucher for a childcare facility of your choice.
If you are sixteen years of age or older, here is an overview of programs which will help any mother get started on the right track which some programs may provide daycare assistance. Each program may vary by state; so check your local listings:
Job Readiness
Job Corps: This program is for those young adults in low-income groups aged sixteen to twenty-four years of age. Job Corps provides hands-on training in more than one hundred professional specialized areas, including automobile and machine repair, finance, such as accounting, and business services, medical care, IT technology, and many more trades. Job Corps also helps program participants to generate a diploma or a GED. Job Corps can help individuals who have a diploma get ready for college by establishing relationships with local institutions. Programs in independent living, employability, and social abilities are provided to all Job Corps participants in order to prepare them for a career and preparation for real life. This program is available in many states.
Source: JobCorps
Purchasing a Car:
Ways to Work: Ways to Work is a charitable, economical loan program that helps working family members move beyond hardship by giving them access to economics and finance and efficient transportation. Ways to Work provides loans up to $6,000 for low-income families.
Source: WaystoWork
Free Charity Cars: This program gives out generously donated vehicles to those in need. You make a profile on the website and tell why you need an automobile. Next, you must produce ballots for people who will vouch for you and to verify the reasons you previously stated why you need an automobile. These ballots could be from close relatives and friends. Whoever wins the most ballots receives a car.
Source: Free Charity Cars
Cellular Phone:
Safe Link Wireless: This program provides a free, no contract cell phone to income eligible households. Cell phone minutes are renewed at two hundred fifty minutes each month with this service. Only one cell phone per household.
Source: Safe Link Wireless
Need a House?
Habitat for Humanity: Are you sick and exhausted with renting? Did you know a key to gaining success is to become a homeowner? Habitat for Humanity's home ownership system helps income-qualified individuals become homeowners by having them assist in the construction of another individual's house. Once they helped in this construction for someone else; then construction will be created for their own home. Other specifications that help a family qualify for a home through Habitat for Humanity are overcrowding and homelessness.
Source: Habitat for Humanity
CoAbode: This is a service in which single mothers help other single mothers by sharing housing. This is a matching service that connects you with other single mothers to combine financial resources, utilities, or living space. Create a profile on this website and be connected with other women who are in search of a roommate.
Source: CoAbode
Check Your Credit Report:
Annual Credit Report: Need to see your credit report? The credit report, when it is excellent allows you to have the finer things in life such as a new car, house, personal loans, etc. This service allows you to see your credit report free once a year.
Source: Annual Credit Report
Credit Karma: On this website, you are able to see your credit rating for an endless number of times, sign up for credit rating signals when changes are made to your credit rating. This company provides its services at no cost. This site also provides benefits and education on how to increase your credit score. Note: The higher your credit rating, the more you will be able to purchase a new car, obtain a credit card with an excellent borrowing limit, and obtain other credit-based items.
Source: Credit Karma
Lexington Law: Let's say after you've reviewed your credit report and credit score and unsatisfied with items on there; this service will remove any negative items off your credit report to boost your credit score. Although, this company charges a small monthly fee, it would be worth it by the third or fourth month.
Source: Lexington Law
Disability Assistance
Social Security Disability Insurance: Are you disabled? Do you have an impairment, mental or physical, which may prevent you from working? Do you have proof or documentation of this impairment? If yes, you may be eligible to receive SSI or SSDI, or both. Also, do you know if you had impairment before the age of twenty-two, you could receive benefits off your parent's record as well? Important: When applying for these benefits, it is wise to have a social security advocate or lawyer become your representative. Social Security lawyers, by law, cannot ask for money upfront. Their money comes only when you, as the disabled person, win the disability case. Some cases take longer than others, depending on the circumstances.
To get started on a disability application, go to: Social Security Disability Insurance
If you are a veteran's dependant:
Veterans' Assistance: If you are a dependant of a veteran or an active duty military person, then your local Veteran's Administration office can provide one-time assistance for things such as car repair, food, utility assistance, or help with paying a credit card bill. This assistance is usually available for a veteran's dependant if the caretaker has very little money to support the dependant at the end of the month. For instance, if one made $600.00 a month, and $550.00 of it went toward bills, and an unexpected expense or emergency came up, such as the primary family car broke down, or your household ran out of food, then the local Veteran's Administration office can be a great resource. Again, this sort of help is available on a one-time basis for veterans and their dependants only.
Source: Contact your local Veterans' Administration office.
Miscellaneous Services
Modest Needs: Offers grant assistance to individuals who may need help with paying a bill. You must fill out an application on their website.
Source: Modest Needs
Health Services
This section consists of a few programs that offer assistance due to health-related reasons. Keep in mind that whether you are working, attending school, or simply still trying to find your way in the world, your health, and the consistent maintenance of it, should always be your first priority.
You're going to get sick eventually, and when it happens, why not be prepared for it? Purchasing prescription medications can be very costly, but programs such as YourRxCard and The Free Drug Card Program help significantly with these costs. If you do not have health insurance, or are not eligible to receive government-funded health insurance such as Medicaid, then refer to these:
Ameriplan: This plan provides a discount and charges a small fee for services such as chiropractors, dentistry, general health, vision, prescriptions, and urgent care.
Source: Ameriplan
Health Well Foundation: This program provides medical assistance to individuals with certain diseases or medical conditions. See their website for criteria.
Source: Health Well Foundation
Patient Services Incorporated: This program provides medical assistance to individuals with certain diseases or medical conditions. See their website for certain criteria.
Source: Patient Services Incorporated
Other Services
In order to use some of the information in this book successfully, you will need some computer skills, Internet access, and a computer. But these are not necessary just for this book; having some Internet skills and a computer with access to the Internet in the home is extremely important for successful living in the twenty-first century. We live in an information-based society, and more employers and resources in general are posting their services online. If you do not have a computer or access to the Internet (such as at the public library), a company called Internet Essentials offers free training on using the Internet, a computer for less than $150.00, and Internet service for ten dollars a month. The requirement of this wonderful service is that you must be a Comcast member for ninety days and have a child eligible for the reduced price lunch at school. Source: Internet Essentials
Please remember that there are hundreds of services out there, but the particular ones mentioned in this chapter are sure to be helpful when you are starting out as a mother, or you just need help.
The next chapter will focus on the most common financial resources promoted for single mothers. However, what concerns me about these resources is that they are designed to keep you penny pinching with just enough to get by from month to month. Chapter 2 will discuss methods to stretch your money as far as possible. Any method I discuss that you are successful with and make money with, keep in mind that you must report this income to your local county office if you are receiving county benefits or any other form of federal assistance.
Excerpted from A Single Mother, A Few Perspectives … and anyone else who is a single parent by Mary Elizabeth Jones
Copyright © 2012 by Mary Elizabeth Jones M.A.. Excerpted by permission.
All rights reserved. No part of this excerpt may be reproduced or reprinted without permission in writing from the publisher.
Excerpts are provided by Dial-A-Book Inc. solely for the personal use of visitors to this web site.