Ladies, why is it so hard to find love? And even harder as a single mother? Why is it hard to keep a relationship from falling apart once you're in one? Why is it hard to have hope after being hurt? These are all questions that I've searched endlessly for answers. And I found an answer, one answer to all these questions and more that is so simple it's hard. But love doesn't have to be hard at all! The problem is that we don't allow love. Love is the most influential, powerful and natural part of whom we are. We were made to want love and to want to give love. It's the most authentic fiber of our being and this is why it seems so hard. It's scary to let people (including ourselves) into the truest part of who we are because we're afraid of being hurt.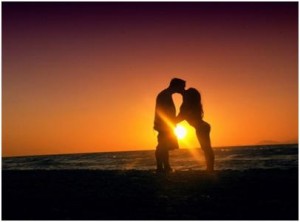 Lately I've been learning a lot about the "Law of Attraction" and it's honestly changed my life. The Law of Attraction is about having so much love for yourself that you believe you deserve to feel and have what you want without having to sacrifice for it. And in doing so the universe responds to your feelings, giving you what you want. One of the best things I've taken from learning about this new concept is how to allow love. It's all about sitting back and letting the love you want to come to you. It's honestly that easy! All you have to do is allow yourself to feel good and the more you feel good, the more the universe responds to how you feel. It took me a while to really let the simplicity of this sink in so that I could actually apply it but since I've been applying it, I've never been happier with my love life. It's as though it just keeps getting better and even more exciting. This has been such a huge and positive influence in my life that I want to teach you what I've learned. So my next few articles are going to be all about how to allow love into your life. I really think this will inspire you no matter what your romantic situation is so let's get to it! First of all…
Why is allowing love so hard? Allowing love is hard because we live in the past and dwell on the future. We let fear run our lives way too much. We take our experiences from the past and we hold on to the memories of bad feelings from past relationships because we're so afraid of feeling them again. We hold onto these negative feelings so much that when we start to get into a new relationship, we allow these bad memories to shift our energy and make us feel anxious, scared and unworthy. This is so toxic because this shift in our energy to more negative feelings causes us to act in ways that push people away. Instead of allowing possible connections with a man by putting off the energy that our heart is open, we put off the energy that our heart is closed because we're already afraid he's going to hurt us. Next thing you know he's running, you're crying and adding more negativity to your energy. It's a vicious cycle that I've seen a lot of single mothers get caught up in. We've all been hurt but being hurt is actually a good thing. Here's why…
A relationship lost is a relationship gained. Breakups hurt because we feel like we've lost something wonderful. We reminisce about the good times and want them again and we feel that no one else will ever be able to give us those feelings. We hurt because we mourn what we've lost. But there's two ways to see things after a breakup. Loss or gain. You may feel like you've lost something and the pain you feel from this only encourages the feeling of loss but the door has also been open for you to gain a better and stronger relationship with yourself. All of those hurtful feelings serve to show you more about what you really do and do not want in love. Maybe he was always telling you your ideas were stupid and this made you feel worthless or maybe he was always comparing you openly to other women and this made you feel like he wasn't happy with you. Yes it hurt but now you know you don't want this in love. There are also the things that made you happy. Maybe he was a good listener or maybe he would make you PB&J's just the way you like them to show how much he cared. These good feelings, you want to feel them again and you miss them. It hurts because you think that he was the only one who could make you feel that. But take those feelings, detach them from the people (the men) in your past and hold them close to your heart. These feelings, you will find someone who can make you feel them again. Those wonderful feelings are proof that you can allow love. Keep them and allow yourself to feel them as detached feelings from any specific person. Feel good about them and as you allow those feelings to make you feel good again, your energy will become more and more positive and you will attract more of these feelings.
Breakups can be tough but they aren't a loss. They teach you more about what you want and what you don't want and knowing this can only bring you closer to having what you really want in love. The relationship you have with yourself when you look at it this way can only grow and strengthen.
We are so afraid to let love in because life conditions us to be afraid to do so for fear of getting hurt. But every time you have to let go and walk away from someone who no longer brings you happiness, you're only becoming closer to what you're really searching for. Don't try to avoid the feelings after a breakup but use them as tools to allow love again. Use them to learn more about what you want and what you don't want.
Up next: Take the good feelings from relationships in your past, feel them regularly and allow them to make you feel good. This attracts love. I'll talk about how to do this in my next article.