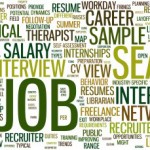 One of the hardest aspects of life to manage as a single mother is the balance between working and spending time with your children. It seems there is never enough hours in the day to work, do housework, and play with the kids and never enough money to pay all the bills. Whether you need more money or more time here are some awesome jobs for single moms.
For the mothers that need more time with their children, sales and office work are good places to look. Sales can include selling insurance, real estate, pharmaceuticals, etc. They may require some training or licenses but do not usually require a college degree or too much in experience. Sales jobs may not have the consistent salary you are looking for as many are based on commission, but the hours are flexible and many times you can work from home. An office job such as being a secretary, clerk or assistant, can likely offer you a consistent paycheck and schedule from 9-5.
For the mothers looking to make more money, health care and public relations jobs may be the best bet. Nursing, with a $50,000 national average salary may require you to be up early and home late, but many times you can work while the kids are in school or sleeping. Hospital hours may also give you the option to work several days on and then have several days off. If you know your children will be with their father for several day this may be a great option. Home health care aids can set their own hours based on their patients and their own needs while allowing a workload that can increase in salary with taking more clients on.
School teaching is one of the professions that many women seek once they become mothers. While the pay can vary from area to area, the benefits and hours can be just right for your family. Teachers can expect to be at school early and stay late so it may not give you all the time you thought, but with 2 months off for the summer and holidays off with your kids can be an amazing opportunity to spend more time with your children and touch the lives of other children.
Other work options that may benefit a single mom can include a work-study program with the college you are attending. Working will pay toward your college tuition and many times campuses will have a low cost or free daycare for employee and student's children. For some mothers, working at their children's school or daycare can give them peace of mind and close contact while also helping to pay the bills. If you feel like you can open your home and have the skills, you could also open a home daycare. Taking in several children for a few hours a day can supplement your income.
Another option that single mothers should look into for flexibility is starting their own company. What are you passionate about and what can you do with that? Photography, sewing, graphic design, etc are all great skills that you can turn into a profitable business. Many times there are small business loans for minorities, including women, to help you get started.
Single mothers need to prioritize their family needs. Companies that provide the most flexibility don't necessarily offer the highest salaries or benefits. It's a balancing act, which is something as a single mom you are very familiar with.