Ending and preventing homelessness in every community, one church and one family at a time. Bridge of Hope brings together professional staff and trained church-based mentoring groups to empower homeless and at-risk single mothers to attain: Permanent housing, Financial self-sufficiency, Life-changing friendships, Growth and wholeness.
Search for Bridge of Hope assistance in your state.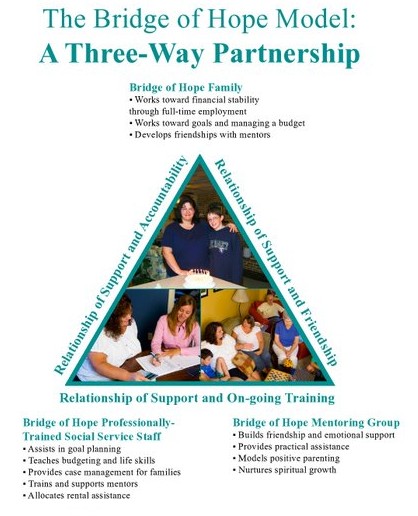 Bridge of Hope National Values Statement
We hold the following values firmly as we strive to advance the mission of Bridge of Hope:
We believe that the church is the vital link for ending homelessness for homeless women and children; we believe that mentoring groups provide a long-term supportive network for homeless and at-risk families.
We respect each woman and child participating in the program, regardless of race, ethnicity, faith and past experience.
We draw staff, Board members and mentoring groups from Christian congregations which confess Jesus Christ as divine Lord and Savior.
We believe Jesus Christ is our example in bringing love and hope to the poor, the broken hearted, the oppressed, the homeless and the suffering.
We support and encourage positive life changes related to physical, emotional, social and spiritual wholeness which may occur in all participants, staff, board members and volunteers through their involvement in Bridge of Hope.
We value the staff who provide professional, compassionate and quality services to participating families and mentoring groups.
We value honesty and integrity as the operating principles for all who are involved with Bridge of Hope.
We recognize our triune God as the life source for this ministry and depend on prayer to empower us to fulfill God's purposes through Bridge of Hope.
Ten Free Things To Do With Friends
Bridge of Hope suggests the ten free things to do with friends.
Shared joy is a double joy; shared sorrow is half a sorrow. — Swedish Proverb
Read here: Ten Free Things To Do With Friends