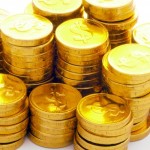 I always assumed that I was saving money and getting the best possible price on nearly all of the items that I purchased at my local Dollar General store.  After all, a dollar store is a place for absolute rock-bottom prices, right?  Surely the prices I was paying had to be the lowest… or not.
With my oldest daughter's upcoming birthday, I was desperately trying to find some fake gold coins to put on her "Jake and the Neverland Pirates" birthday cake.  I didn't want to pay the outrageous price that I found them for on eBay, but I'd looked at other stores with no luck at all.  My aunt told me that she'd seen them at the Dollar Tree, so I went there to look.
I took my two youngest children with me so they could pick out their older sister's birthday presents, because with their extreme generosity I couldn't afford to take them anywhere where things were more than $1.  We went up and down every aisle in the store, and I was amazed at the selection.  Everything in the store was priced at $1.  I expected nothing but junk, but I was pleasantly surprised.
Although I found the gold coins I was looking for, I also found other good deals.  Instead of paying $1.75 for 12 disposable birthday plates at the Dollar General, I paid $1 for 24 at the Dollar Tree.  Plastic cutlery was equally inexpensive.  I was thrilled when I saw the selection of craft items there and picked up multiple packs of beads, string, and other craft supplies for my daughter.  She says she's going to be an artist when she grows up, and I'm so glad that I finally found an affordable place at which to buy her craft supplies.
Although the Dollar General is right in the town where I live, the money I saved at the Dollar Tree more than made up for the gas I used to drive there.  Besides, I went out of town to buy milk anyway, so I was already near the Dollar Tree anyway.  My budget's about maxed out for the remainder of this month, but next month, I plan to make another trip to the Dollar Tree and spend a lot less at the Dollar General.  I always thought that all dollar stores were basically the same.  I wish i had known sooner how incredibly wrong I was.
Article by Randi Millward