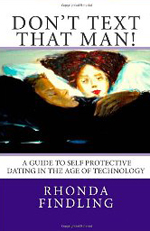 Rhonda Findling, author of the bestselling and internationally acclaimed Don't Call That Man! A Survival Guide To Letting Go has written a new book to help women during their dating journey in the millennium: Don't Text That Man! A Guide To Self Protective Dating in the Age of Technology.
Don't Text That Man! will empower you by offering deeper insight into men's minds to determine if a man you are interested in or involved with has the emotional capacity to sustain a grownup, mature, viable relationship.
Packed with invaluable advice, Don't Text That Man! will teach you how to detach from a man you broke up with or has broken up with you in the healthiest way possible, with your self-esteem in tact. You will learn to cope with obsessive thinking as well as feelings of anger and aggression.
In our fast-paced technological world, women truly need to be smarter and more self-protective than ever before. Don't Text That Man! will teach you how.