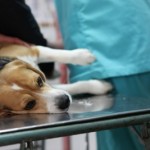 I debated about whether or not to include tips on how to save on euthanasia at the risk of lacking tact. This is not a time where we want to be seeking discounts. However, euthanasia can be expensive. Here are some things that may help to defray the cost:
Sometimes it will cost less for euthanasia if you do not want to be present with your pet. The reason for this is that the procedure takes less of the veterinarian's time if you are not present. When the owner is present we generally will take a good amount of time to explain the procedure and to ensure that you are comfortable and informed with each step.
If your animal is already in the hospital on intravenous fluids some vets will not charge as much for euthanasia because there is already a catheter in place. If your animal is currently being hospitalized and you have decided it is time for euthanasia you can ask if your vet will reduce the price because he or she does not have to insert a catheter.
If finances are extremely tight, in some areas the local humane society will do euthanasia at either a reduced fee or at no cost especially if an animal is extremely uncomfortable or suffering.
A word about cremation:
It's never easy making decisions about euthanasia. If you are facing this tough decision you may also have to make decisions about whether or not your animal is cremated.
Depending on where you live you may have several different options available to you.
Are you able to bury your animal at home? Many municipalities forbid this. However, if this is an option to you, it can save you a lot of money if you feel you are up to the task.
Some practices offer a different fee depending on whether you would like your pet buried or cremated. However, in many areas cremation is the only option. If you do choose to have your animal cremated, it is much less expensive if you do not want to have the ashes returned.
Many crematoriums will offer a less expensive ash return option whereby your pet is cremated along with a few other pets and the ashes you receive back are mostly belonging to your pet but may contain ashes from a few other pets.
If you are having your animal's ashes returned to you, many people will choose to order a special urn especially if you want to display the urn. Often you can find these urns for less expensive buy buying them online. However, if you do this you will need to ask your hospital to store your pet's body until you receive the urn so that it can travel to the crematorium along with your pet.
Article by Dr. Marie