You know how people are always talking about "keeping my head above water"? As though they're fighting some battle against all the things that are trying to keep them down? Well what if you stopped trying to keep your head above water? What if you stopped fighting and let all your troubles and insecurities catch up to you? I learned that that's exactly what you have to do before you can truly fall in love and have a fulfilling relationship with another person.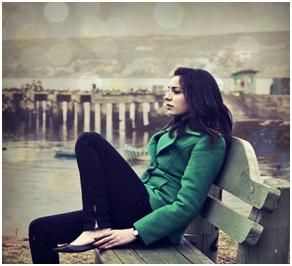 Before my divorce I was always chasing that high that you get when you're the object of someone else's attention (especially a really hot charming man). As long as I was getting that attention I was distracted from any fears or insecurities inside of me and the high was blissful. But as soon as that other person took their attention away, I would fall…HARD. That fall is what we call heart break and it left me feeling so empty and completely lost. Fall after fall and slowly but surely I became cold and bitter towards relationships so I'm sure you can understand why after my divorce I locked my heart away in a steel box and swore that I would never be with anyone again. I had fallen into the lonely trap that so many of us fall into. We use the love of others to love ourselves but when we lose their love, we also lose ours but… little did I know that I would learn the absolute most important lesson of my life that is also the biggest secret to falling in love with another person.
The kind of love that doesn't only fulfill your physical desires but the kind of love that feeds your soul! The kind of love that leaves you fearless and nervous at the same time! The kind of love that leaves you smiling uncontrollably and lifts you to levels higher than you ever imagined and that leaves you feeling on top of the world. The secret is that this kind of love is purely a reflection of how much you love yourself.
After my divorce, I was alone and had absolutely no desire to find anyone new. I told myself and everyone else that I was just really strong and didn't need anyone else. And while it is true that I don't need anyone else, I was saying this out of fear and anger. Now I say it from a place of freedom and love. Now when I'm with someone, it's not because I'm trying to fill a void or complete something but because I feel a connection that inspires my soul and that of another. So what changed? I found myself and I learned to love me…all of me.
Let me explain. You are an ocean of unexplored beauty but so many of us are afraid to explore what is under the surface. We're afraid to explore our true selves because that means facing our fears and insecurities. It's so much easier to bury our fears and insecurities in distractions such as relationships but to know who you really are and what your desires are, you have to face those fears and insecurities. They are the key that unlocks your biggest desires and their true meanings lie beneath your surface where only you can find them. Believe it or not your fears and your insecurities are your best friend and they will teach you everything you need to know about learning to love yourself.
We all have fears and insecurities about ourselves but why are they so scary? Why do they haunt us and why do we try so hard to either hide them or fix them? Because within them lies the possibilities to find something that is uniquely fulfilling to us and if we go after that something and don't get it, we are afraid we will lose so much more. I think one of the most common fears (especially amongst single mothers) is the fear of letting someone get close to us. We're afraid that if they get close to us, they could hurt us. But flip that coin and you'll see that on the other side of that fear is a deep desire to find that connection with someone. When someone has a fear it's because they have a deep desire for something but they're so focused on the fear that they can't see that desire. That's why I say that your fears and insecurities are the key. They are the key that unlocks your true desires and knowing what your heart truly desires is how you learn about whom you really are and once you can feel who you really are, the possibilities for love feel endless.
You are so worthy of finding love. Not just with someone else but within yourself and if you don't think so it's only because you don't know yourself yet. Once you know who you are, you feel free and love is abundant and a gift you give yourself. Once you know who you are, you discover that the love you have for yourself is the most important love and the gift that you give anyone lucky enough to somehow cross your path.
Do you want to find who you really are? Do you want to face your fears and insecurities and turn them into powerful blessings? Do you want to fall in love with yourself so much that nothing else will ever be strong enough to bring you down? And do you want to fall in love with someone who sees you for who you really are and have a soulful connection that lifts you both to higher levels? My words can't teach but they can inspire you to find your own path. In the coming weeks I will share my own journey to love with you by covering the following over the next four weeks…
Uncovering your fears and transforming them into power
Exploring your hearts true desires and discovering who you really are
Learning to love yourself and what it means to you
Falling in love with confidence
I've learned all of this and I want to share it all with you. I used to think love was scary but now I think of it as an endless ocean for me to explore. Love is fun, exciting and so fulfilling no matter what happens because I've already found the best love of all and so can you! And I'm here to help you but do me a huge favor by liking and/or sharing my post on Facebook so that I know you want to read more on this. Check back soon for more.