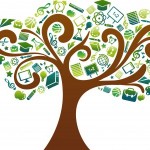 Growing up we all have dreams of becoming doctor's, lawyers, fireman, policeman and so many other things.  But there comes a time in our lives where we forget those dreams. We put our educations on hold to "grow up". We become consumed with PTA meetings, work schedules, mortgage payments and all those other things that come along with being an adult and having children. I mean who has time to juggle all that and school? The sad truth is that we ALL do! It just takes dedication, sacrifice and some support.
Nowadays, going to school is easier than ever! There are so many technical schools, private/state colleges and even trade schools. Oh, and let's not forget my favorite one, ON-LINE COLLEGES! These institutions help work around YOUR schedule. You can maintain a job while furthering your education for a better future for yourself and your family.
I know the idea sounds exhausting and even impossible. We all have responsibilities, limited time and stresses in our lives. Adding school to the mix is definitely going to add a lot more to your plate and it won't be easy. But anything life worth having is worth waiting and working for.
Education is your door to endless opportunities, not to mention it makes you an amazing role model for your children. There are programs that run anywhere from 6 months to 8 years, you just have decide what path you want to take and then begin your journey. Going back to school is not something to be looked at with fear or dread, but rather as a chance to fulfill those childhood dreams.
One path that I always suggest to single moms who have limited time is nursing. The programs usually only run for 2 years depending on where you go and there is money out there to help you go, one of them is the Connecticut Nursing Scholarships and Grants. There are also Federal Education Loans for people in the health care field. It seems like bettering your future for yourself and your family has never been easier. The resources are out there, it's just up to you to make the choice to begin the journey.
Written by Veronica Diaz