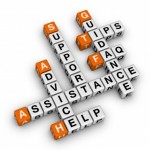 Housing is the most vital necessity besides food to many households and yet many single mothers struggle with their housing payments every month. Single mothers in unfortunate circumstances may not be aware that there is aid available for them through many avenues. Many people believe that single mothers should have enough child support to live on their own but the fact is that many single mothers cannot collect on child support even when it is court-mandated. The costs of raising a child can be staggeringly high and even dual-income couples often have financial problems due to their children.
Government Welfare Programs
Most government welfare programs are extremely easy for a single mother to get into. The single mother needs to make below a certain amount and needs to have assets below a certain amount. Assets are anything that the single mother owns to include checking and savings accounts and a vehicle but many welfare programs will not consider a vehicle an asset if it is necessary for work. Welfare housing is usually a specific type of housing because the landlords need to agree to accept welfare recipients. However, this does not mean that the housing is unsafe. Many government welfare programs have lengthy waiting lists so it is in a single mother's best interest to apply as soon as possible. While they apply for housing benefits they can also apply for food benefits and other care.
Community Welfare Programs
Many single mothers may be surprised to find out that there are community welfare programs in their area that will be able to help them, especially during a short-term financial crisis. Single mothers who suddenly find themselves unable to pay their housing costs can often look towards their church, temple or other non-denominational and supportive community organization for financial aid. While sometimes this aid is temporary there are many community organizations that maintain continual programs for the aid of the elderly and those with children. Single mothers have the best chances with a community organization that either they already have a relationship with or that they know someone within but many are open to anyone who can prove need.
Single Parent Mortgage Loans
Mothers who wish to raise their children in their home may encounter certain difficulties when applying for a mortgage. Mortgage loans are based around the income of the household and are usually centered on dual-income earners. This means that single parent households will often need to settle on a home that is less than half the cost of the ordinary homes in the market. Single mothers can consider apartments or they can consider going into a loan with their parents. It is inadvisable to go into a housing loan with anyone besides family because it can lead to extremely difficult complicates later on. While it is possible to get a home loan as a single mother many single mothers may find it easier to save up a larger down payment over time so that they can afford the house they and their family truly desire.
 Written by Brentt Taylor
Brentt Taylor writes for MortgageLoan.com, a comprehensive online guide that provides premier online publication for consumer-focused news and information, financial news, consumer education materials, and personal finance tools.