As a single mother, I have a natural tendency to want to fix everything instead of walking away from a problem. That's why it's so hard to move on from a guy that I really like but I've come so far and I am beginning to know my true worth. I know now when a man is no longer a good thing for me and I know when to get up and leave. Still, it's sooo hard sometimes.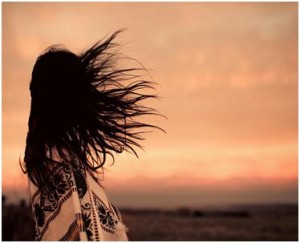 There's a guy I've been seeing for a while and I really like him. We have such a wonderful connection when we're with each other and he makes me smile. He's fun, sexy, comfortable, and never boring and together, we seem to have this great balance between intense and carefree fun. However, we are in very different places in our life and it shows. He's just not in a place to give me what I want and I'm no longer one to stick around and wait.
Anyway, I hear from this guy once a week (always him initiating contact) asking to see me and this past week was no different. He asked to see me but I was busy so he asked for me to let him know when I could hang out again. The next day, I realized I had a free night so I let him know I was free and would like to hang out. But I never heard back from him! It's not that this is a huge deal but I want to spend my time with men who can at least get back to me with a simple yes or no when they ask when I can hang out again and I give them a day. It's out of pure respect. I know people are busy and I'm perfectly fine with him not getting back to me right away. But when it happens over and over again, I don't like how it makes me feel. I've come to the realization that when I no longer feel good about a man, it's time to move on.
I'm not going to pretend to be tough because it honestly hurt that I didn't hear back from him. I just realized that it had happened one too many times and that I could no longer justify it. I deserve much more and the only way to get that is to move on. Before I'd continue to stay in this situation and convince myself that I could fix it or that he'd come around but there are three things I've come to realize that give me not only the strength to move on but the growth to become wiser and happier.
First…We hang on to conditional feelings. What are conditional feelings? They are feelings that are created during a situation that we believe we can feel again if only we can re-create the situation that we first felt these feelings in. For example, when a guy takes you on an amazing beach vacation and you've never had a guy take you on vacation. You feel amazing and excited in a way you've never felt before. This feeling is what you want! But the problem is that we relate this feeling to a specific condition and in doing so, we search for but fail to re-create this condition because we think it's the only way to feel that way again. So the next time a guy takes you on a vacation, it doesn't feel as amazing because it's with another guy and not at that same beach.
So what we have to be careful of is that we don't attach our wonderful feelings to a specific condition because one condition can never be equally created. You have to remember that you felt those feelings because you were open to receiving them. So just because you once felt wonderful with him doesn't mean you can't feel wonderful with someone else. You just have to be open and willing to feel that way again.
I remind myself to not say or think "he made me feel …" No guy makes me feel anything. A man can inspire me to feel something but only if I let him. This is good because it means that I can allow myself to feel all the excitement and wonders of falling in love again. I don't need that one specific man to feel that again.
Second…It's okay to feel pain. You're one tough cookie, there's no doubt about that. Being a single mom is not for the weak and this is why you are able to let pain in. Some people cover up their pain and pretend it's not real and they may appear tough on the outside but they're really just scared of facing pain and showing emotion. But letting pain in actually allows you to heal faster.
It hurts that I know I have to let this specific guy go. We had a real connection and I actually cried last night because naturally I want to hang onto that connection. But I know that just because I'm hurt right now, it's only temporary and that this is all a part of loving myself enough to know in my heart I deserve better. I used to think that feeling pain meant that I did something wrong. Now I know that it's a natural part of growing into something better. It's easier to stay in a bad situation than move on because you don't want to feel the pain. But pain is okay. It's even a good thing if you let it be. Let it be a reminder that you love yourself enough to not accept anything less than what your beautiful delicate heart desires.
Third… It's all in how you look at it. I could allow the fact that I didn't hear back from him and that he obviously feels it's okay to do this to me because I've allowed it time and time again make me feel as though I'm just not good enough and that I deserve to be treated like a doormat. I could see it as me over reacting and I should just "not care" when he doesn't reply. I could come up with a million excuses for him, like maybe he didn't get my message. So I could try and salvage things by sending another message or pretending not to care or…
I could be confident enough to recognize that his doing this over and over really bothers me. And perhaps it's not just this one thing. Perhaps there's more but what's important here is that my heart is telling me I no longer like how he makes me feel. That this is another chance to grow and become an even stronger and more honest person than I was before. Grow because I've learned a little more about what I don't want, Stronger because I once again was able to walk away from a situation that no longer served me and more honest because instead of ignoring how I truly feel, I'm being honest with myself about how I feel. All of these things are good! I no longer live in the past or feel devastated when things don't go the way I hope because there's always…ALWAYS a good perspective to any situation. Whether you choose to see it or not is up to you.
Anytime I no longer feel good about a man I'm seeing and I know it's time to move on, I remember these three things. They make me stronger and they give me hope that something much better will come along. Don't settle, because you're too good for that and love yourself enough to move on when he no longer inspires the good in you.