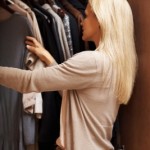 Whether you are newly single or have been single a long time, as mothers we tend to focus on our children more than we do ourselves. Many times this means we have put our fashion and beauty on the back-burner. Are you still sporting the same look from high school or from your past relationship? Now is the time to take a moment and indulge in some "me time" and have a mommy makeover.
What not to wear! For starters let's look into your closet. Are you sporting some mom jeans, leggings, or sweat pants that you just know aren't flattering? Comfort tends to be what moms reach for and there is no problem in keeping the stretchy jeans around, but when out and about you will feel great if you invest in some nice fitted dark denim jeans. Dark denim is flattering and always in style. It can be dressed up with a shiny top and heels or dressed down with a t-shirt and flats. And remember that no one likes to see a plumbers crack, unless it is your chubby babies bottom peeking through his diaper. Next toss any tops that don't fit your bust or your waist just right. You don't want to scream single or desperate, so beware of tops too low cut or too snug in the bust. Layer tops for a comfy stylish look that can be removed if your children tend to spill on you. Try a discount store that sells name brand items or a resell shop. Many times you can find great items for a great deal!
Next spend a day at the salon to get a new haircut and/or color that will surely get you out of any funk you may be in. Don't be afraid to be bold and try a new cut or color as long as you can embrace something new, go for it. Take some time to get your nails painted. You can save some money and have a blast by having a girlfriend get together to paint nails and toes and do facials. You will be impressed at how great your skin can look if you do a facial for the first time. Groom those brows and it will brighten your eyes. Less is more when it comes to make-up and as a single mom you don't want to look like you're ready for a night on the town at the 3pm pick-up. Throw out any expired makeup and splurge on some new fancy lip colors and eye shadows. Then when you are on the town you do a seductive silver eye shadow. Replace any jewelry that may have a bitter past and save it for your children when they are older. You don't have to wear make-up every day but put some color on your lips and mascara and the other mommies will wonder how you always look so great. Then make plans to be glamorous a couple times a month!
Your home may need a makeover as well. Still sleeping with the sheets you used with your ex? Donate those to goodwill and find a soft bedding set that will make you feel like a princess each night. You work hard so up that thread count. Replace anything in your home that reminds you of a negative time in your life. A simple and affordable way to make your home feel new is to apply a few coats of paint to the walls and spice up your window coverings.
As a single mother, you want to look as good as you feel with this life you are living. A few changes to your wardrobe and beauty routine may make a world of a difference in your appearance and may give you a renewed since of confidence.
N.H.