One habit that women seem to never grow out of when it comes to dating is analyzing a man's texting habits! Before you try to break down another word or lack thereof in his message, read this. I'll admit, I used to be one of those women who would search the internet and consult my closest friends to find a meaning in every message a guy would send me and the only thing I accomplished by doing this? Making myself crazy! Nowadays, texting with a man is nothing more than a means of communicating need to know info. Actually, I think my texting habits sometimes confuse men because honestly, I don't like texting. I prefer real life interactions and phone calls. Texting does very little for me. So here are some "texting habits" that we've imposed on men over the years that needs to go.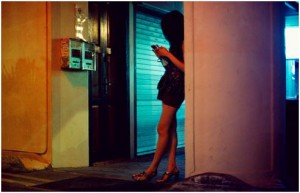 He no longer texts every day. Okay, so you just started seeing a guy and he's texting you like crazy every day and you're loving it. Things are going great and you've had some wonderful dates and all of a sudden a day goes by and you don't hear from him. What does it mean??? Nothing! It means nothing. First, back up to the part where I wrote Things are going great. If things are going good then that's what matters. If you had fun with him the last time you saw him, then chances are he had fun too and you will hear from him again. In the beginning a man wants to win you over so he'll be texting you nonstop and he may even shower you with compliments but as things get more comfortable and you become more familiar with each other, the texting every day will slow down. It's unrealistic to expect anyone to text you every day and this doesn't mean he's lost interest.
What not to do. Don't text him because you want to make sure he knows you're still interested. Men need time to miss you a little and to reenergize their manly freedom so give him that time. And ladies, do not sit around anxiously waiting for your phone to notify you of a text. You should never wait on a man to get a hold of you. Otherwise life will pass you by.
What to do. Instead of thinking about what his sudden lack of texting means, think about the great time you had and what about it was great to you. Learn about what you like and bask in the good feeling of it. Get out and live your life! Make plans with your friends or your kids. Whatever you do, focus on taking care of yourself and having fun. Because if you're having fun and truly living, you'll avoid the anxiety and fear that comes from waiting around for him to get a hold of you.
He takes forever to text back. So you texted him to ask something, say good morning or whatever and it's an hour later and you're biting your nails because he hasn't texted you back yet. Stop it! Men don't have time limits when it comes to texting. He could easily be busy or out with his friends or sleeping (because we all know that men love to sleep). Men are very task focused and if he's doing something that requires any focus at all (watching football, brain surgery, masturbating) then rest assured he's not paying attention to his phone. Whereas women, we always have our phone on standby and we're ready to take action at the sound of a notification.
What not to do. Don't start checking your text message details to make sure he got your message and don't text him back thinking he needs a push or a reminder. And PLEASE, please don't get angry because you think being disrespectful. Texting is not a substitute for real life and feelings. Just because he takes longer than you would to reply does not mean you aren't important to him.
What to do. Be more like a man and put that phone away. There's a big beautiful world that has nothing to do with technology waiting for you to explore it so again, quit waiting and get back to life. Keep yourself busy and your mind quiet. And when he does finally get back to you whether it is in an hour or a day later, keep your reply sweet and short. Because you're too busy for those long drawn out full of pent up excitement texts anyway…right??
Texts that come off way too strong. This actually just happened to me last week! A guy I just met was telling me how wonderful I am (via our text messaging) and we haven't even met in person! Before I would've brushed him off as a jerk that is either crazy or just wants sex but now I know better. In the online dating world men can come off a little strong when they're first getting to know you through texting but it doesn't necessarily mean he's an asshole. Men who are interested in you will often at first pursue you hard. To him, winning you over is a challenge. So if he seems a bit pushy and forward in his texting, this is probably all it is but trust your intuition.
What not to do. If you just met the guy and he's coming off strong in his texts but you have a feeling you might have chemistry with him, don't cut him loose because of texting. You can't possibly judge a man through texting alone (unless of course he's threatening to kidnap you and make you his slave. Then you need to block him and change your number ASAP).
What to do. Listen to your intuition. No one knows better than you what you like in dating. If the things he's said through texting have completely turned you off, don't force yourself to meet up with him or continue things. Once chemistry is gone, it's gone. But if you think there's a chance you will have chemistry with this guy, give him a shot. Just as I had to do, kindly let him know that he's coming off too aggressive and you don't like it. No need for sugar coating and excuses. If you don't like something, that's all he needs to know and if he can't respect this for some reason then he can move on.
Late night texts (aka booty calls). Okay, this one I feel is soooo simple but yet I have a lot of women write to me asking what it means if some guy only texts them late at night and they never hear from him during the day. Ladies, we all know that if a guy is interested in more than your boobs and butt he's going to get a hold of you during the day when he's sober. If you're only hearing from him late at night and he's only making last minute, late night plans with you, he's not looking for a girlfriend. He's looking for sex. It's simple. Keep it simple.
What not to do. Don't try to read between the lines here. Don't have any "talks" with him about where things are going either because if a man wants to take things further with you, he will make his intentions loud and clear. If you try to have the "talk" with a late night only booty caller, you're going to waste your time. Honestly, I'd rather spend that time meeting another guy.
What to do. Take him or leave him. If he texts you late at night and you're up for it, go with it. The only rule in dating is DO WHAT YOU WANT TO DO. Do whatever your beautiful little heart desires but do so with NO expectations.
Pet names. Haha, I've seen this so many times and I admit, I've done it too. I get a message from one of my friends asking what a guy means when he calls them some pet name such as baby, cutie, sweetie, sugar pie etc… There's so many reasons a guy will call you pet names and none of which you should worry your little buttercup head over. Maybe he's comfortable enough with you to call you a pet name, maybe he absolutely adores you or maybe he's just sweet talking your pants off. The point is him calling you a cute little name in a text is not something to get your panties in a bunch about.
What to do. If he calls you something along the lines of baby or cutie in a text and it makes you smile, let him know. Text him back saying something like "That just made me smile handsome". Men love to know when they make you smile so let him know. If he calls you something like honey bunches and you want to gag, the best thing to do is not reply at all. Nothing speaks louder than silence.
What not to do. Don't ask him why he called you that. Don't over analyze it and don't go calling him some way over the top disgustingly sweet nick name that took you hours to come up with. Men call us cute little pet names because they know women like this, not because they want to be called sugar plum or pumpkin butt in return. He wants to feel manly and names you would call your cute little puppy do not make him feel manly.
He changes the subject completely. Okay, you know how you're texting with a guy and maybe the conversation is getting heated or you're going on and on about how your coworker sucks and he completely changes the subject? Chances are he either doesn't want to talk about it or he doesn't know what to say. Regardless, follow his lead and let the subject be changed. A lot of women get pissy when a guy does this and they push and push and next thing you know, he's disappeared from the conversation all together. Men don't like detailed long and drawn out conversations via texting and it's hard to convey emotions and tone through texting.
What to do. Follow his lead and go with the flow. If he changes the subject, trying to change it back isn't going to get you anywhere. He probably doesn't want to talk about it. Don't get upset either. Just give it a break and if it's something really important then it's best to just chill for a little bit and then decide if you need to bring it up again or not and if you decide that you do, do so in person. This way he there's less chances of things being misinterpreted.
What not to do. Do not blow up at him through texting if he changes the subject and sets you off on the wrong foot. Don't start interrogating him about why he changed the subject and don't assume anything either because this won't get you anywhere.
He disappears…completely. I'm sure you incredibly beautiful and intelligent single mothers know this but if a man never texts you again, it means one thing. He failed to see what he could've had.
What to do. There's only one thing for a woman who knows her own worth to do. Move on. You are way too beautiful and wonderful to let any man hold you back from life. Maybe he swept you off your feet but if he's no longer texting you at all, he's moved on and so should you.
What not to do. Don't mistake his silence for losing your number, dying or thinking you're no longer interested and needing a reminder. Unfortunately we don't always get the answers we're wanting but these are usually the answers you don't need anyway. So get back to your life and keep your eyes open for the next guy. After all, there are over 600 million men in the world. And there's only 1 of you.
The bottom line is texting should always be taken lightly. It's not a science and it's definitely not an indicator as to how a man feels about you (except for 4 and 7). So many women read between the lines when it comes to a man's texting habits and they drive themselves crazy. The only way to know how a man feels about you is how he makes you feel when you're with him…in person.