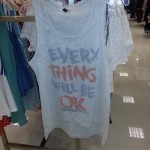 As a parent I have primarily focused most of my time and resources on raising my daughter. I made a conscious decision to do that on the day she was born.  Taking my job as a mother very seriously, I was mindful that she would grow up fast.
I've always worked jobs where I could make money but also spend time with my daughter. Choosing these part-time jobs over a career I also tried to stay true to the direction I wanted to go. Although I enjoyed my life while raising my daughter, the downside was the lack of substantial income.
After my divorce is when the financial strain began. When I was married my income was always supplemental, but now it was primary.  A very scary place to be – head of the household.  The mere thought that everything hung on my shoulders shot paralyzing fear through me.  My only choice was to rely on my faith and trust that everything would be OK.
My daughter being an only child and highly social created more financial responsibilities than three children put together.  She didn't miss out on anything – cheerleading, homecoming court, proms, pageants, you name it, she was involved.  But I wanted that for her- just because she lived with a single parent didn't mean she had to miss out on life.
Fast forward to today – we made it!  She graduated this past May, my job is pretty much done…. now what? Where I'm I?  What do I need?
One major issue I avoided for years was my health.  I inherited uterine fibroid tumors past down from my grandmother, mother to me.  Without health insurance I found ways to maintain my yearly exams and mammograms through a wonderful community clinic but the tumors were growing at a fast pace and my body was suffering, a hysterectomy was the only solution.  The time had come for me to take care of me.
With the help of my OBGYN, I was educated on the process of how to get the surgery without insurance.   A man of faith himself, his continual words of assurance that "I would feel so much better" kept me motivated.  The process took time, patience, multiple phone calls and paperwork.  I had to keep reminding myself, "I was worth it".
A week before surgery was my daughter's 19th birthday.  Trying to focus on her and get all I needed done before recovery time was exhausting. I boldly told God, "I have taken care of people for years, now it's time for you to take care of me".  I felt vulnerable and afraid, I only experienced surgery once in my life when I was 12.  What if they find something else wrong? Will it hurt? How can I survive financially taking two weeks off without pay?  These questions haunted me night and day, I told no one but tried to continually turn my fears over to God.
During that week I received many signs my demanding prayer was answered. One of the most obvious ways was while shopping with my daughter on her birthday I came across the shirt above, "Everything will be OK", at that point I knew in my heart I was being taken care of. My Higher Power was getting the message through loud and clear – Don't worry, just trust.
Today is day six of my recovery.  My surgery was a huge success according to my doctor and I have experienced minimal pain.  All week my home has been filled with visitors, flowers, food and much needed monetary donations. The love and support I feel is overwhelming!
Through this process I have experienced a new sense of understanding about faith.  A faith that says when I choose to step out to take care of myself I am not alone. He orchestrates people, places and things or should I say the universe to accommodate all I need.  When I surrender my control, let go and merely trust, I see the beauty of His handiwork taking care of every detail in my life… but most importantly me!
Written by Renee Blankenship