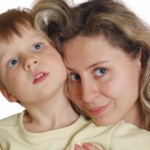 Fathers play a very important role in the lives of their children and when the child is a son then the need of a father is even stronger. As a single mother, we often find that raising sons can get to be quite a handful for us. There are certain demands of a male child that are best fulfilled by a father bonding. Single mothers will definitely need to keep some tips in mind when raising sons so as to ensure a wholesome development for the kid.
Below are some tips that will help single moms in raising their sons :
Bring in guy stuff – There is no denying that fact that genders are different in many ways and as a mom you may overlook the need to bring in guy stuff into the home. Expose your son to a man's world as often as you can. Right from sports to clothing to television programs, books to even hobbies try and bring in the masculine influence. In most cases the boys will grow up seeing their father and so automatically adapt to the male stuff, but unless you have other male members in the house, as a single mom you will need to make an effort to expose your son to these 'guy things'.
Don't bash men – As single moms we will often curse all of mankind. So, something like all men are pathetic can damage your son severely since he immediately will translate it on himself. Avoid degrading all men in general and always talk to your son about how there are some men who may follow a certain thought process while others may differ. Do remember to stress that even in the ladies there are divides and not all women are loving, caring and giving as most people would like to believe. It will help to point out the good qualities of men that you do admire so that your boy does have some sort of the basic idea to go with.
Organize male bonding groups – As a single mom you may be a bit worried about your son not getting enough male interaction. For this it will help to find the boy some male bonding clubs and camps to go to. Boys need to hang out with other boys their age and also interact with older men. Small things like a handshake can be learned from these groups. You son will be able to pick up a lot body language from these groups. So in case you are a single mom and there is very little or no male influence in your son's life, make sure you figure out some clubs and camps for this purpose.
As a single mom it can get a bit confusing to raise a son especially when the child begins to grow up and hits puberty. Do keep in mind that your son's gender should not become a bane for him just because his father was not around to raise him.