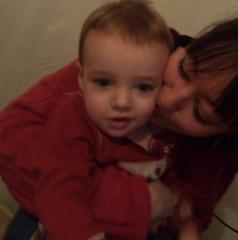 I was thirty-two in the summer of 2011, and my life was finally beginning to look like something that made sense. It was me and my two girls, Lily, age nine, and Grace, age six. Their Dad and I had separated about four years prior. While still young, they weren't babies anymore, and their busier school and social schedules had freed me up to spend more time pursuing my career in real estate. I sold two houses that year, which is a considerable feat for anyone new to real estate, let alone a single mother of two.
My life felt complete. I had my girls, my friends, my family, and my work, and I was quite content with all of it.
It was a brutally hot day in August. I was taking both of my daughters to friend's houses so that I could accompany my sister Kim to her new home inspection. Grace was getting dropped off first. She was going to a house on a quiet street near to the neighborhood I had raised the girls in as babies. As we grew close to our destination, I drove by a house that I'd passed many times before, but this time something caught my attention. I noticed a man mowing the front lawn.  He was tall and handsome, dark features, strong face. I had never seen him before, but was immediately attracted, which felt awkward and exciting, being out of character for me to begin with.
After saying goodbye to Grace, I mentioned him to her playmate's mom, a wonderful gal-pal of mine. She knew the house, but not the guy. "Talk to him!",  she encouraged me. "You're in real estate," she said , "You could use that as an opening .. 'I know someone who is looking for a house in the area …' ".  I giggled, considering it, and then giggled again because I was. As I drove off down the road I couldn't help looking at him again, and I could tell he was checking me out too. Still I couldn't get up the nerve to stop and talk to him, and went ahead to the inspection.
Later on I headed back to pick up Grace, and this time I had my sister, Trisha, in the car with me. Of course I had told her about the mystery lawn-mower.. We picked up Grace, and my girlfriend encouraged me further to talk to him. It wasn't like me to merely see a man and get all butterflyish like this. She believed I should act on it.
As we left, Trisha picked up where my girlfriend had left off. "Just do it! Don't think about it! If you don't stop you might regret it for the rest of your life!" Truer words have never been spoken. Nine months later I gave birth to my son.
There isn't a lot to say about that night that you haven't already surmised from reading thus far. He texted me shortly after I drove off, asked if I'd like to go out sometime. Nights away from my girls were few and far between, and that particular night just happened to be one of them. 'Why don't I just come over for a bit' I suggested. I've never been one to beat around the bush, and I'm not very fond of "dates", either. I just don't find it appropriate or enticing to sit face to face in a crowded restaurant somewhere with someone I barely know, staring at the sauce on his chin, and listening in feigned excitement as he gives me an in depth analysis of his career. I grabbed a bottle of wine on the way over, for myself. I don't know if I needed something to relax my nerves, or to make me uninhibited enough to sleep with a man I had just met, or if I just wanted to take a break from my reality and get drunk and hangout with some male company. Who knows. Maybe it was all three. And each one of those statements  can be left open to judgement, but so be it. I was a working mother in my early 30's. I was single. I never wanted to subject my children to seeing me with and meeting different random men so I hadn't. But I was human. I had needs. With the rest of my life feeling so beautifully complete, the only thing lacking was sex.
He had said his name was 'Bill'. 'Bill' told me a little about his very complicated life. He was a couple years older than me, hadn't been raised by his biological parents.  His childhood had consisted of being in and out of different  foster care situations, adopted at some point maybe. The details are blurry. I told him about me, my life, my daughters. He mentioned that he was pretty sure he couldn't conceive children. Already in his late thirties, he had once been in a relationship for many years with a woman who had a child previously. They would try to conceive to no avail. Since she already had given birth in the past, he assumed he was shooting blanks. I drank too much as we talked and laughed. One thing led to another and I awoke in his bed the next day. I remember walking out the door that morning, vaguely recalling that he had climaxed inside me. Sure, he didn't think he was fertile, but I never thought I was until I had my first child, either. So I did the only thing one can do in that situation. I got and eventually took the day after pill. I don't remember second guessing it. It had worked for the girls' dad and I when we first hooked up, and as far as I knew it was pretty foolproof.
I would come to find out that 'pretty foolproof' is about 89%.
Labor Day. Oh, the irony. I knew before I took the test. By now my nausea was in high-gear day in and day out, something I had only experienced twice before, and in turn had ended up naming Lily and Grace. My period had been late. Later. Non-existent. When I first saw that pink line on the stick it felt like the world started spinning around me at top speed, while I was frozen in time. I couldn't cry. I couldn't think. I couldn't breathe. I experienced every emotion that one might fathom I would in that moment. Terror. Confusion. Regret. Shame. And somewhere even deeper, even more primal, I felt Peace. And Joy.
I had always been instinctively opposed to abortion, and the thought of it struck a dark discord against everything I believed in, and everything I was. Namely, a  mother. But I already was a mother, and one who after years of working and school and life, was finally beginning to put together the pieces of doing it all alone. It's sad to think about, but I actually got the feeling that I would receive less judgement for terminating the pregnancy than for going through with it. I mean, What right did I have to give birth to another child when I had been struggling for years to provide for the two I already had? With lump in throat, I waited for my daughters to go to bed and I sat in front of the computer. Google. "Abortion Pill". No sooner did I hit the enter button then a horrible wave swept over me. There's no real way to describe it, other than to say it felt like the blackest thunder cloud in the middle of the darkest storm I had ever witnessed in all my life. I felt cold, tense, sick. My body was having a physical response to my thoughts and actions. I use the words 'my body'  loosely, as I realized it was much, much more than that. In that very moment, I felt my baby.
As I'm known to do, I let my gut call the shots that evening, overriding any lagging thoughts and feelings of my mind and heart.
I had spoken to 'Bill' once since that fateful night. We had a brief phone conversation that was quite unremarkable. But I knew I needed to tell him. After all, this child within me was his, too. Out of fear, or uncertainty, or just a momentarily lapse of balls, I did what any modern day woman who got knocked up by a one-night stand would do. I sent him a text.
I never knew someone could dial a number so fast. My phone rang immediately, kicking my heart and adrenaline into max gear. He was okay. He was mindblown. He was, more than likely, experiencing a lot of the same feelings I had, and different ones, too. He didn't say much,  was in shock I suppose. I told him I was having the baby, and I was used to doing it on my own. I assured him I would never pressure him for money or involvement, but I wanted to give him the opportunity if he desired.  The truth is that neither one of us went into that night with procreation as an intention, or, and quite ignorantly, even a possibility. I knew and understood that all too well.
A few days or weeks later I called him again. I needed to know his thoughts, feelings, plans or non-plans. He very sincerely admitted that he did not feel ready to or capable of being a Dad. I reassured him that I understood. Although I didn't, I did. Very few people ever utter a word when a woman makes a "choice" about what to do with "her body",  but let a man be unready for fatherhood and all of a sudden everyone is up in arms. Not me. I got it. I didn't judge him for his feelings. I respected him for telling me the truth. And although I had no deliberate intention of protecting a man I barely knew from court cases and forced paternity tests and child support, I had every intention of protecting my child from all of it.
I found out during an ultrasound that I would be giving birth to a boy. I was thrilled. I never in a billion years could have pictured myself having another baby, let alone a boy. It also brought about very sad feelings. My son wouldn't have a dad. I don't know why this seemed worse to me than if he had been a girl, but it did. My heart broke for him before we even met. I myself was raised by both parents, still together to this day. I could never relate to or fully empathize with the anguish my daughters suffered from having their own parents split up, because it was something I myself had never experienced. And my new baby wouldn't even know his dad. I never told 'Bill' that I knew the gender of the baby. It shouldn't have mattered anyway.
Reality for me set in slowly as I went though my pregnancy. I would invite girlfriends or family members or my daughters to accompany me to ultrasounds. Every doctor visit I attended alone. My surprise shower thrown by some amazing friends was lovely, but there was no Daddy there during or after to savor the celebration with.
Right before I gave birth to my son I sent 'Bill' one last text. Double-checking, I called it. But I know that deep down inside of my hormone-driven hyper-emotional state I was probably reaching out for a glimmer of hope. Not for me. For my son. He responded quite harshly, sending me into a heaving, crying mess. There's no way to know why he made the choice he made. Maybe he was involved with another woman and too afraid of the consequences. (I had begun to suspect that during our initial phone call, but on the night we met he had reassured me that he was single.) Maybe because he was raised without parents he just didn't have a clue as to how to be one. Maybe for other reasons he didn't think he was good enough to be a dad. And maybe, he wasn't. I didn't know then and I don't know now, but I never wanted my son to grow up in a world of lies, and this is as close to the truth as I could get.
Labor was hard. Labor's always hard, it always hurts. But this time it hurt in two very different ways.
And then I met my baby.
Tears pour out of my like an erupting well as I write those words. He was everything and more than I ever could've dreamed of. He was peace and joy incarnate. The very same that I felt the day I found out for certain that he was inside me. He was LOVE. He was Wesley.
As I drove myself and my two daughters and my brand new baby home from the hospital 'against medical advice!', I felt a mixture of total abandonment combined with a stronger sense of determination and  independence than I had ever experienced  before. And I knew I could do this alone, even if it was hard, even if it hurt. I had to. My baby was perfect, and he was my perfect.
My 'baby' is almost three now.
He amazes me every day of  my life. He is gorgeous, smart, thoughtful, loving. He is a fierce defender of his sisters, and me. He is all boy, all trains and planes and cars and tracks and transformers. He is gentle, kind, and careful.
Over and over during the past few years I have thought of his dad. How he can go on day after day missing all of this. How he can exist in the same universe as the most amazing human being he could ever meet, a creation of his very own, and yet not take the opportunity to do so. How he knows he has a fatherless child out in the world and just carries on anyway. How he's never seen his own reflection in the eyes of his son. I don't try to understand it because I never will. I give him the benefit of the doubt. I hope it has more to do with own insecurities and his own childhood than that it's a deliberate decision. Perhaps I'll never know. Perhaps it's better off that way.
My son is blessed to have a strong male role model in my own dad, "Grandpa". I can only begin to describe the peace their relationship offers my soul. And he's always a hit with the 'big men' everywhere we go. I can't tell you how often in the past couple years that different guys, strangers,  have taken the time out of their day to acknowledge my boy, "Sup little man!",  high-fives, and the like.  Male family members and  friends and neighbors fill in the gaps, toss balls with him, check out his trains. These small moments mean more to a fatherless boy than these men will probably ever realize. But I do.
He never seemed to notice the obvious lack, but he's so little. His world is comprised of his sisters and me. We love him so dearly, he completes our lives,  he is our home, and we are his. We let him be a boy without making him feel like he has to be a man, because he's not one, not yet. We take great care of him, together. My daughters have helped tremendously in his upbringing thus-far. Together, we have all made perfect sense of everything. In many, many ways, he is the luckiest kid I know.
Still I've always known that eventually Wes will start asking questions. He's already started to notice the role of Daddy in other family units. Soon he will hear about Father's Day. He'll realize how babies are made. And he'll ask. And age appropriate, I will tell him. I will be gentle and honest like he is with me. I will dry his tears and share his pain. I will carry it all, if he'll let me. And deep down inside of me I know he will be even better than OK. He will.
The other day I was sitting and reading, and Wes came up to me like he does so many times a day. "I wanna hug you!" He says. All the time. "I wanna hug you toooo!" I reply. All the time. But this time, this time he said something I've never heard before. "I love you Momma Bear!" My heart melted within me. "I love you too Baby Bear!" And then he paused, and looked at me. Beautiful. Inquisitive. Innocent. "But. Where's Daddy Bear ?" he asked. My heart shattered within me.
I racked my brain and my heart for the perfect response, but to no avail.
Finally, the answer came to me. The only real answer I know and the only real answer that Wes could understand at his tender, playful age. And of course, it came right from my gut. "I don't know, Baby Bear. But we'll find him."
He smiled. And went back to playing with his train.