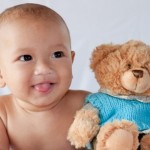 With so many demands on today's families and the increased focus on early brain development, families need all the support they can get to nurture the potential of youth. That's why child care and early learning programs at the Y focus on holistically nurturing child development by providing a safe and healthy place to learn foundational skills, develop healthy, trusting relationships and build self-reliance through the Y values of caring, honesty, respect and responsibility.
Children are like sponges – they watch and absorb knowledge, skills and values from everything and everyone around them. At the Y, we believe the values and skills learned early on are vital building blocks for quality of life and future success.  That's why our child care, after school and Child Watch programs are staffed with people who understand the cognitive, physical and social development of kids, the need children have to feel connected and supported in trying new things, and the caring and reinforcement parents and families need to help each other. At the Y, babies develop trust and security, preschoolers experience early literacy and learn about their world, and school-age kids make friends, learn new skills and do homework.  Most importantly, children learn how to be their best selves. That makes for confident kids today, and contributing and engaged adults tomorrow.
Child Care
YMCA across the country offer quality full-day and partial-day child care for infants through preschoolers, enabling parents and family members to go to work knowing their children are in safe, stimulating environments.
Afterschool
With a focus on safety, health, social growth and academic enhancement, YMCA afterschool programs serve kindergartners through middle schoolers with a variety of programmatic and activity options to explore and develop their interests and talents.
Child Watch
Many Ys offer free drop-in child care while mom or dad make use of the YMCA.  Playful, engaging options are plentiful for young children while you exercise or connect with others over shared interests.