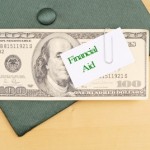 The Sallie Mae Fund, a charitable organization sponsored by Sallie Mae, achieves its mission — to increase access to higher education for America's students — by supporting programs and initiatives that help open doors to higher education, prepare families for their college investment, and bridge the gap when no one else can.
In addition, The Sallie Mae Fund encourages employee volunteerism and community service in the communities where Sallie Mae employees live and work.
Sallie Mae established a donor-advised fund at The Community Foundation for the National Capital Region in 1992, with an initial grant of $2 million, to institutionalize its history of educational programs, scholarships, employee volunteerism, and community service.
In the late 1990s, The Fund's giving efforts evolved to focus on access philanthropy — promoting that a higher education is accessible and affordable to all. Since 2001, The Sallie Mae Fund has contributed more than $123 million, largely to address key barriers to college access.
In addition to its Saving, Planning and Paying for College and Kids2College programs, The Fund also has supported:
Paying for College Bus Tour
The Fund's Paying for College Bus Tour was a coast-to-coast campaign to unleash college opportunities for low-income and minority families. The Tour united local community groups and schools to encourage young people in underserved communities to set their sights on college. From 2004 to 2008, the Tour conducted more than 800 free workshops in English and Spanish in 33 states, reached more than 150,000 people, and awarded nearly $450,000 in scholarships. Eighty percent of families who participated in a workshop said they believed they would be able to pay for college, as opposed to 30 percent before attending the event.
Scholarships
The Sallie Mae Fund sponsors several scholarship programs and supports hundreds of college scholarships. All of our programs are based on financial need, as The Fund seeks to bridge the dollar gap when no one else can. With an estimated $3 billion in private scholarships awarded nationally each year, The Fund aims to send the message that money is available to those who make the effort to apply. Since 2001, The Sallie Mae Fund has awarded more than $15.5 million in scholarships to more than 6,350 students.
African-American Initiative
In response to its research, The Fund created the African-American Initiative, a multipart campaign designed to improve higher education access among African-American students. In addition to workshops, components of the campaign included Black College Dollars, a national scholarship directory geared for African-American students, scholarship programs in partnership with BET, ESSENCE and NAFEO, and an interactive CD-ROM featuring Historically Black Colleges and Universities (HBCU).
"Hold Fast to Dreams" Tour Starring Vince Papale
In 1976, at the age of 30, Vince Papale attended an open tryout and made the Philadelphia Eagles football team, becoming the oldest rookie in the history of the NFL. His story is told in the Walt Disney Pictures film Invincible. As a former Sallie Mae employee and frequent presenter of The Fund's workshops, Vince spent many years encouraging high school students to dream for college. Before he was a football legend, he was the first in his family to attend and graduate from college. Through The Fund's fall 2006 "Hold Fast to Dreams" tour, Vince shared with students the importance of higher education in his life. During the tour, The Fund awarded $50,000 in scholarships to students in Philadelphia, Newark, N.J., Orlando, St. Louis and Los Angeles.
$1 Million Dollar State Access Initiative
The Fund selected key states to engage in deeper college awareness campaigns based on low-income and minority demographics and partnership opportunities with government and higher education institutions. The Fund pledged $1 million each in California, Florida and Texas to support programs that help close the college enrollment gap. Initiatives included expansion of the Bus Tour, Kids2College, scholarships, free educational materials, and media campaigns.
Building Hope
To equalize access to a quality education, Sallie Mae and The Sallie Mae Fund identified the growing public charter school movement as an opportunity for much-needed K-12 education reform in the District of Columbia. With an initial grant of $28 million in 2003, The Sallie Mae Fund created Building Hope. This nonprofit foundation addresses the principal operational challenge facing charter schools: identifying and financing viable facilities. Since its inception, Building Hope has helped finance approximately $430 million of public charter school facilities, representing approximately 23,820 new classroom seats.
The Posse Foundation
The Posse Foundation recruits, trains and financially supports an ethnic mix of student leaders from public high schools to form multicultural teams called "Posses." It selects students with extraordinary academic and leadership potential who are ambitious, motivated and smart, yet may be overlooked by the traditional college selection process. The Fund has provided a total of $6 million to Posse to establish a DC Posse Center and support the national endowment.